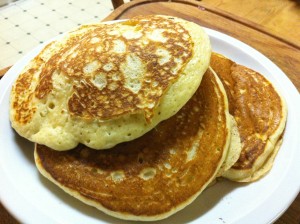 When I bake my favourite Chocolate Cupcake recipe, I'm always left with a huge amount of leftover buttermilk and no real idea what to do with it. Often enough, it ends up going to waste.
But I'm feeling a real thrifty phase coming on, and I've been watching BBC's Foyle's War and thinking about rationing and self-sufficiency and all that, and while not wasting a little buttermilk is really a small thing, it feels good. And a bellyful of delicious, light, fluffy pancakes feels pretty damned good too.
I always think of pancakes as being heavy, boring, and a bit of a hassle to make, but these Buttermilk Pancakes are quick and easy and pretty good even without maple syrup. I bet they'd be great with honey, too, or with a little lemon juice and icing sugar.
[yumprint-recipe id='6′]