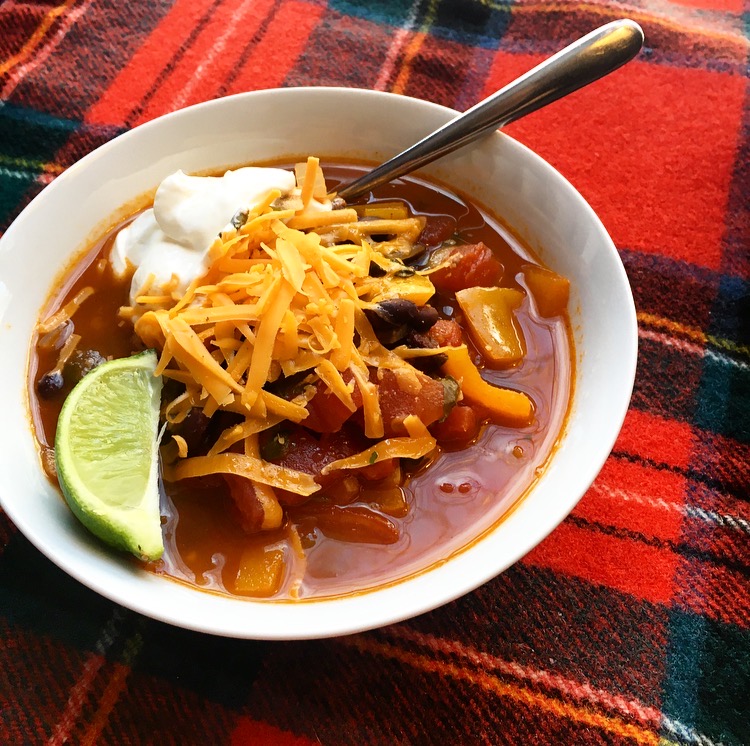 A deliciously spicy, flavourful soup that's warming and filling.
This time of year, I like bright, spicy flavours and hearty soups that kick you out of your post-festivities malaise and get you back into the kitchen. This soup was serendipitous; I didn't feel like cooking, and I was irritated that the grocery store didn't have half of the ingredients I needed for the recipe I wanted to make. I felt grumpy that I had to come up with something on the fly, and thought this was going to be one of those soups that you made and ate dutifully without really enjoying it. I cooked it based on a recipe, but absentmindedly started improvising. And once I sat down with this soup the grumpiness dissipated and I felt a nice happy glow.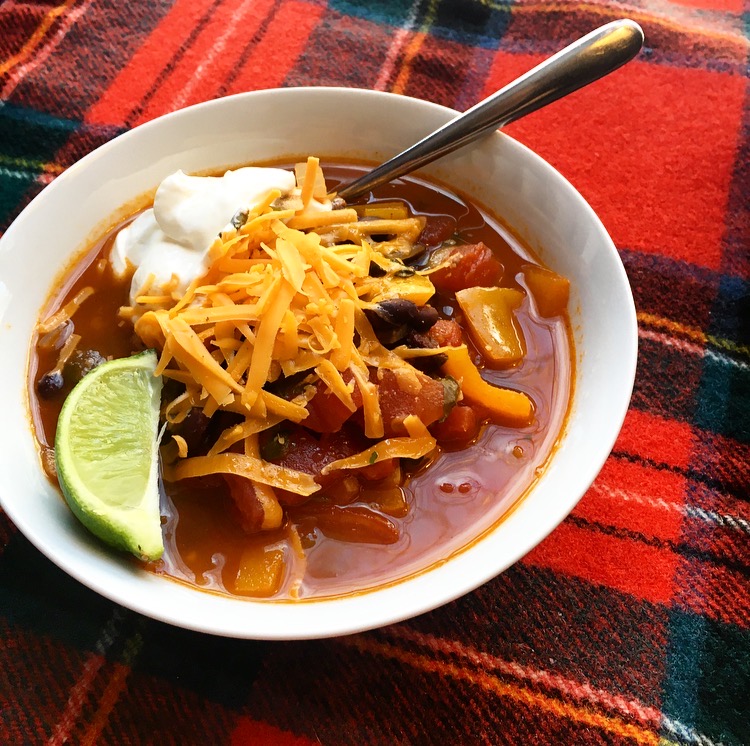 It comes together nice and quick, so you should have it ready to eat in about 25 minutes. Whatever you do, don't skip on adding fresh lime juice at the end; I don't think it would be half so good without it. And I think the added cheddar and sour cream really round it out, so even if you're trying to eat light, I'd recommend keeping them in – though of course, if you're vegan, leaving them out makes this soup vegan too. Maybe try topping it with sliced avocado to keep some of those delicious, essential fats in the mix.
Black Bean Chipotle Soup
You can usually buy tins of chipotle peppers in adobe at any well-stocked grocery store, often in the 'Mexican' or 'International' section. I usually freeze whatever I don't use immediately, do that I've almost always got chipotle peppers on hand if I need them.
Ingredients
1 can black beans, drained and rinsed
1 can diced tomatoes
1 large onion, diced
1 sweet pepper, chopped
1 can whole mushrooms, or about a handful of fresh mushrooms
1 1/2 cups stock
2 garlic cloves, minced
2 tablespoons olive oil
1 chipotle pepper in adobe, chopped
2 teaspoons chili powder
1 teaspoon cumin
1 teaspoon ground coriander
fresh cilantro, chopped, to taste
fresh lime juice
shredded cheddar cheese
sour cream
Directions
Heat oil in medium saucepan, add diced onion and chopped sweet pepper, and fry, stirring frequently for ten minutes.
Stir in garlic, spices, and chipotle pepper, stir to combine, and fry for another two minutes until fragrant.
Add drained and rinsed black beans, chopped tomatoes, mushrooms, and stock. Simmer, covered, for fifteen minutes.
Add fresh cilantro and stir.
Ladle into bowls, add fresh lime juice to each. Top with shredded cheddar, sour cream, and additional cilantro.