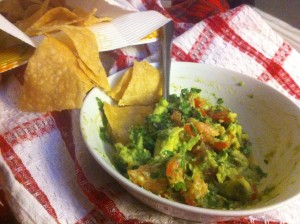 Making Avocados are kind-of a major staple of my diet these days; I don't eat a lot of meat, ((though I'm not a vegetarian.)) and they make a good stand-in for the hearty part of a meal. Though they are annoyingly finicky, ((Not ripe, not ripe not ripe Ripe! Too late)) I usually have them around for sandwiches and things.
Lately, I've been really craving salty, savoury things, and discovered Los Cantores Tortilla Chips at our local deli, St. James Town Steak and Chops. Normally I don't shill for companies, but these are freaking delicious, and I totally recommend them. I'll also note that if you're in the market for the best bacon you've ever had in your life, St. James Town can totally hook you up.
Making Guacamole isn't rocket science – you basically take a bunch of delicious things and mash them together. But everyone does it slightly differently – some like their guac to have a smoother consistency, while I like making mine a bit more chunky and throwing in some tomato. Some people add chipotle or other hot peppers, which sounds great. Some people keep it pure, with just the basics. It's an easy recipe to mess around with – you can just keep adjusting ingredients to taste, which can be dangerous – I tend to start eating it before I'm totally finished making it. In fact, the first time I mean to photograph this recipe, I forgot and ate the whole thing before I remembered!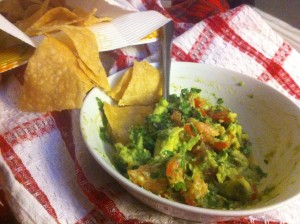 Guacamole
2015-01-18 13:49:22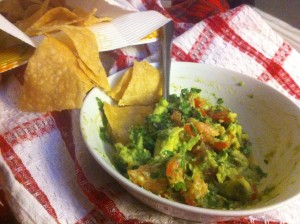 Serves 2
Delicious, flavourful, and pretty healthy, guacamole is my go-to snack!
Ingredients
2 ripe avocados, mashed
1 ripe tomato, diced
1 small bunch fresh cilantro, chopped (to taste)
1 clove garlic, minced
1/2 lemon, juiced
salt, to taste
Instructions
Mash all of the ingredients together, eat with the most delicious tortilla chips you can find!
Candace Shaw https://www.candaceshaw.ca/