Easy-peasy, lovely and delicious, and the perfect thing for just about every day, if you feel like it.
I know oldsters and orchard-owners will tell you all kinds of things about which apples make the best pie, but I'd say that MacIntoshes and Granny Smiths are the absolute best apples for pie making that are regularly available in most grocery stores (in Canada, anyway).  I know other apples hold together better in the pie, but taste is my issue, not texture, and you can't beat Macs and Grannies for perfect sweet-tartness.
Also, if you want a pie that tastes less like a straight-ahead old-fashioned version and more like candied apple pie, add about 1 cup of pineapple juice to the pie filling in this recipe.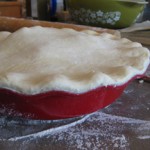 And honestly, just make your own pie crust.  It's not that hard (if you have a good recipe and follow the directions exactly), and it tastes a thousand times better.  And people get all impressed when you say you made the pastry.
When I'm making pie, the measurements are never exact.  Just don't overdo it on the spices, because it's really easy to add too much cinnamon and have a nigh-inedible pie on your hands.
Ingredients
10 or so apples; enough to give you a heaping mound of them in the pie crust.  No flat pies!
1/2 cup – 1 cup brown sugar
1 teaspoon cinnamon
1 pinch nutmeg
Juice of half a lemon
2 Tablespoons butter
Pie Crust (I always use this recipe)
Optional – 1 cup pineapple juice (for a sweeter, candied apple pie)
Directions
Pre-heat oven to 375 degrees Fahrenheit.
Peel apples and cut into bite-sized pieces.  Mix with brown sugar, cinnamon, nutmeg and lemon juice until apples are coated.  If adding pineapple juice, add to mixture and stir
Mound mixture in the pie crust; don't worry if there's a little juice.
Dot butter on top of apples.  Cover with pie crust top.  Cut slits in the crust to allow steam to escape (a butter knife will manage it nicely if you're careful).
Pre-heat oven to 375 degrees, and bake 35-45 minutes.
Serves 8 or so.