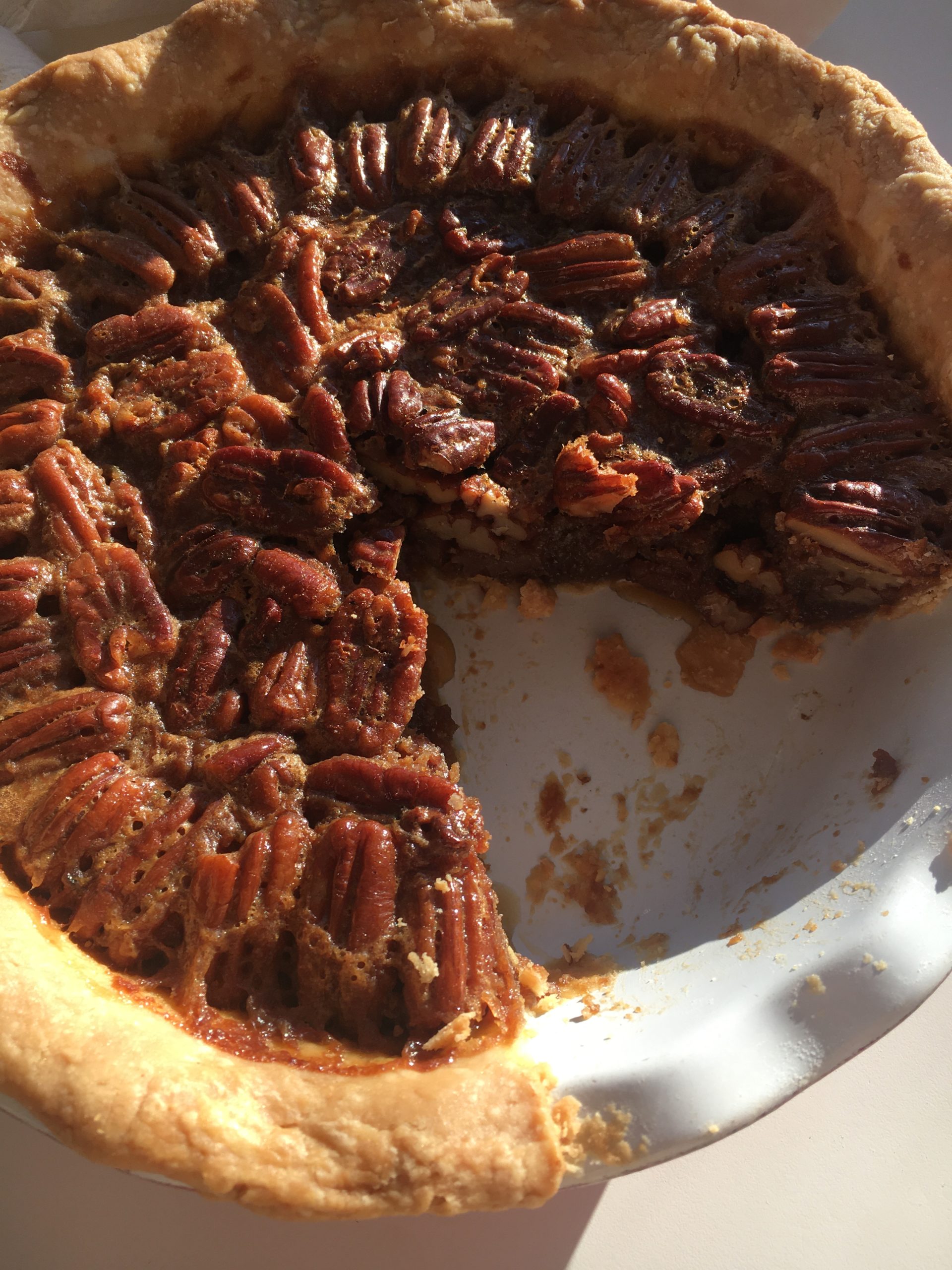 I made this for a friend's birthday, and he said it was "the best pecan pie he's ever had," which is exactly the kind of response you want when you bake something for someone. It's both the first one I've ever baked and the first one I've ever eaten, but I know I'll be making it again, because it's always good to play the hits.
Pecan Pie
Ingredients
3/4 stick butter
1 1/4 cups packed dark brown sugar
1/2 cup corn syrup
1/4 cup maple syrup
2 teaspoon pure vanilla extract
2 teaspoons spiced rum (I like Sailor Jerry's)
1 teaspoon corn starch (I know, I know, but I worry that it won't set without it)
1/4 teaspoon salt
3 large eggs
2 1/2 cups pecan halves (approximate)
Directions
Preheat oven to 350°F with a baking sheet on middle rack.
Roll out dough on a lightly floured surface with a lightly floured rolling pin into a 12-inch round and fit into a 9-inch pie plate. Trim edge, leaving a 1/2-inch overhang. Fold overhang under and lightly press against rim of pie plate.
Lightly prick bottom all over with a fork.
Chill until firm, at least 30 minutes (or freeze 10 minutes).
Meanwhile, melt butter in a small heavy saucepan over medium heat.
Add brown sugar, whisking until smooth.
Remove from heat and whisk in corn syrup, vanilla, rum, corn starch, and salt.
Lightly beat eggs in a medium bowl, then whisk in corn syrup mixture.
Put pecans in pie shell and pour corn syrup mixture evenly over them.
Bake on hot baking sheet until filling is set, 50 minutes to 1 hour.
Cool completely before serving.
Based on Epicurious' Old-Fashioned Pecan Pie recipe with alterations.