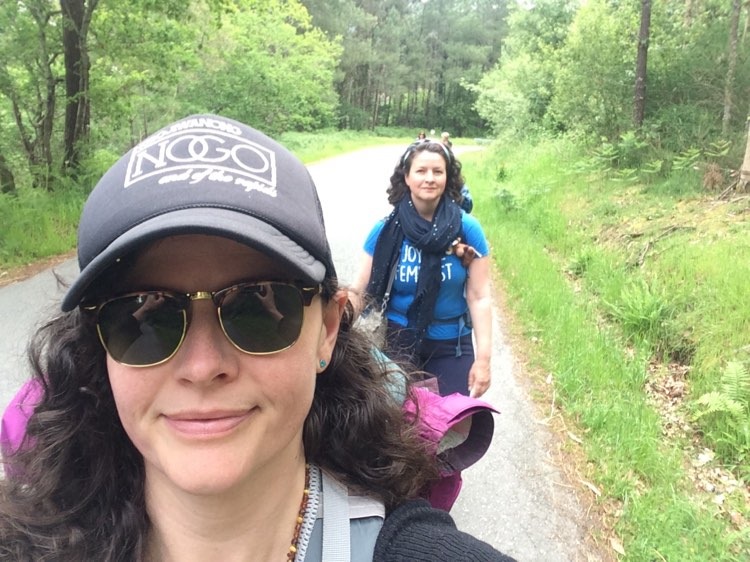 Camino Day 11 – Caldas des Reies to Padrón
6 hours walking, 20.6 km walked
(Walking time includes stopping for meals and breaks)
After a decent night's sleep, we packed up our belongings and said goodbye to the weird little apartment we'd had for the night.
We stopped at a nearby cafe we'd spotted the night before, which was attached to a very fancy hotel that we definitely wouldn't have been able to afford. The breakfast toasts were excellent, really good fuel for our morning, and we lingered over it, having decided to book ahead at a small for-profit albergue for the night in Padrón.
It was a beautiful morning; the sun was shining, and mist was rising off of the newly-ploughed fields.
They say "You're never alone on the Camino," and it's true, but it turns out to be more of a threat than a heart-warming promise. As you get closer to Santiago, the different paths begin to converge and the route is more crowded. This day in particular we started to see what felt like crowds along the way. Bicycles whizz past, and your pace is regulated by the pace of people around you.
Stops at restaurants and cafes along the way take what feels like an eternity as crowds of pilgrims also stop for coffee and bathroom breaks. Competition for spaces to sleep in the municipal albergues gets fierce, and the people who really love to win are out and on the road as soon as there's light. I've mentioned it before, but it really goes from feeling like a nice camaraderie with other peregrinos to a feeling of being crowded, of competition, of stress. Enfer, c'est les autres.
I can't remember if we actually got something to eat or drink here, or if we took a look at the lineups and decided to press on.
I'm not noting this to put people off, but because it's a very common experience and one worth noting. Even though I knew it was going to happen, I found myself feeling annoyed. But it's part of the journey – even in the Middle Ages, it was a common experience, possibly made even more intense by all of the other inconveniences and dangers of travel at that time.
If you started the Camino with any kind of sense of specialness, you lose it in the last few days. But like drivers at rush hour, you have to remember – you're not stuck in traffic, you are traffic.
It's still totally annoying, though.
All that being said, it was a gorgeous day to start, sunlight sparkling down on the Galician countryside, and sometimes your fellow pilgrims are quite cute. At some stops along the way, like Museo Labrego, what's marked on maps as a cafe is actually just an unstaffed vending machine and (if you're lucky) seating area and bathrooms. This is one of the times that it's important to carry your own toilet paper (it is always very important). Museo Labrego is one of the nicer ones, though the substance that comes from those vending machines and is labelled 'coffee' is mysterious and not as drinkable as you'd hope.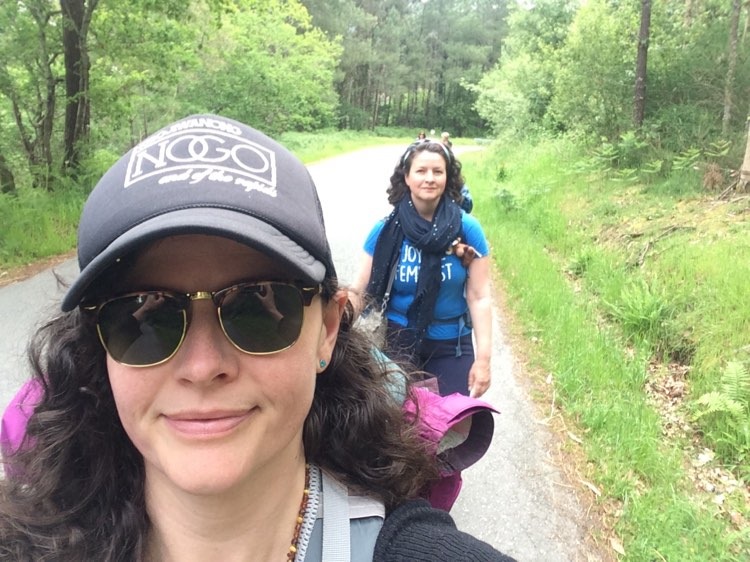 If you play it right – getting well ahead or well behind the crowds of pilgrims that seem to clump together along the route – you can still find some peace along the way. Much of the route this morning was through beautiful forests, along broad, well-maintained paths.
The villages and towns along the way here are very pilgrim-friendly – the St. James statue above was in someone's front yard. At this point, I was taking pictures of every Camino marker we came across – it felt exciting to see the numbers tick down as we got closer and closer to the goal.
Around noon, we stopped for a fairly hearty lunch at Autoservicio San Miguel, a combined grocery store and restaurant that served up all kinds of treats. Sammi had tortilla, I had empanada, and a salad to share, as well as beer and cider. It was busy, but not so busy that we weren't able to snag a table indoors.
I love visiting grocery stores in other countries, as it gives you a view of what's the same as back home and what's different, and we'd been to lots along the way. But I hadn't seen these Spanish flavours of potato chips – sadly, I didn't get a chance to try them.
We made our way into Padrón around 2pm, and settled in to Albergue Rossol, a for-profit albergue with a cafe/restaurant on the ground floor, right behind Iglesia de Santiago de Padrón. It's very clean and modern, and fairly basic but a few steps up from the municipal albergues in terms of amenities (deliciously hot showers), and though you're still sharing a dorm, there's a lot more privacy, there are fewer people in each dorm, and each pod has plugs to charge your phone (a constant issue on the road).
After our afternoon rest, we set off in search of a laundromat. After ten days of washing our clothes mostly by hand and hanging them to dry, we both just really wanted properly clean, properly dry clothes. Though we'd been in a few towns that might have had one, we hadn't seen one yet in our travels, and lugging all the clothes that we weren't currently wearing, we set off on the hunt.
After some confusion, we tracked one down, and found to our dismay that Spanish laundromats don't sell individual packets of laundry soap. Unsure what to do, and with unclear instructions on the machine and no one to ask, we decided to try putting our clothes in and hope desperately that the machines auto-dispense soap. Which led to two grouchy peregrinas, eating oranges and pastries while watching our washing machine like a hawk, bickering over whether or not this was a good idea.
When suds finally appeared, it was cause for great celebration.
Padrón is the city where St. James' remains first found their way to Spain, by boat, and the Iglesia de Santiago de Padrón is built at the spot where that boat tied up by the shore. It also houses the stone plinth, called the Pedrón (which is where Padrón gets its name), which in legend is said to have been what they tied that boat to. It's also said to have been an altar to the god Neptune in the Roman period, and has an inscription (partially worn away) that's apparently a dedication to the god Neptune.
It's not always on view, so you can ask to see it, but we were lucky – because relatively few pilgrims actually come into the church, and because I am obsessed with Catholic iconography and we were taking pictures and really looking at every single statue, one of the church volunteers approached me. I thought she was going to tell me to stop taking pictures, but she was actually asking if I wanted to see the Pedrón. And of course I did, so she brought us to the front of the church, onto the altar, and with a couple other pilgrims I got to kneel down to view it and take pictures.
Now, I'm not Catholic, but I am a history buff, and in particular a fan of Catholicism from a historical and art history perspective. I aim to be respectful, so I would never have walked onto the altar without an invitation. And the Pedrón is sort-of under the altar, so even when it's on view it's hard to get a good look from most vantages. So we were lucky.
The church has many beautiful works of art, including my hands-down favourite lake of fire scene, set below a beautifully-rendered crucifix. Now *that* is a lake of fire! Those sinners do not look stoked.
A quick note about churches: though the Camino de Santiago is a Roman Catholic pilgrim route, most peregrinos are undertaking the walk for secular reasons, or reasons that are more vaguely spiritual than specifically religious. So although, unlike in North America, most churches along the way are open and welcome visitors, you don't find many pilgrims inside of them.
Even if you're not Catholic, you're generally welcome to go in and take a look, and lots of them are full of spectacular or very weird art. Sometimes if you're super-lucky a bored priest or church warden will show you neat aspects of the building you might not otherwise see (this has happened to me many times). Go in, if you like; be quiet, especially if there's a service in session, obey the rules (some ask you not to take photos), and don't be afraid to examine the details.
In celebration, we went to Cafe Ruta Xacobea, a place I remember with great fondness. Sammi had been very reluctant to try tapas, because so much of the food we saw advertised looked unsuitable for vegetarians, but we saw a few things from the menu that she could eat on the chalkboard outside, so she decided it would be okay. The very lovely waiter came to take our order – croquetas veganas, pimientos de Padrón, and tabla de quesos Gallegos (mushrooms croquettes, Padrón peppers, and a Galician cheese plate) – we asked "Do you think that will be enough for two people?" And she gave us a smile and a little laugh, and said "yes, probably."
In no time at all, the food arrived, and we were shocked at the size of the cheese plate – when we ordered it, we hadn't anticipated that we'd receive all of the cheese in Galicia. It was a delicious meal (okay, the mushrooms croquettes weren't amazing), and the restaurant is really welcoming with great service. Unfortunately, we did not get one of the famous hot peppers in our Padrón pepper plate, but they were good anyway. We couldn't manage all of the very delicious cheese, and so at the end of the meal we wrapped it up to fuel us for tomorrow.
A Galician folk tradition is to balance a coin on a rock wall, and make a wish, and if the coin stays in place, the wish will come true. There's also a fair amount of superstition about touching the coins – once they're balanced on the wall, they belong to the spirits of the place, and it's bad luck to take them away. And so they stay, piling up over the years. We each left a coin on the wall of Ruta Xacobea, and then headed back to our comfy albergue for the night, anticipating our long, last day on our pilgrimage to Santiago de Compostela.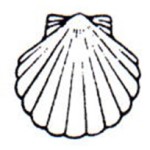 Follow our Caminho Portugues adventure!
Landing Day in Porto
Day 1 – Porto to Vila Cha
Day 2 – Vila Cha to Rates
Day 3 – Rates to Barcelos
Day 4 – Barcelos to Ponte de Lima
Day 5 – Ponte de Lima to Rubiaes
Day 6 – Rubiaes to Tui
Day 7 – Tui to Porriño
Day 8 – Porrino to Redondela
Day 9 – Redondela to Pontevedra
Day 10 – Pontevedra to Caldas des Reies
Day 11 – Caldas des Reies to Padrón (you are here)
When I'm done posting these, I'll also post an article with my collected advice for anyone thinking of walking the Caminho/Camino, and I'll link it here!
Photos by Candace Shaw and Samantha Shaw