Camino Day 7 – Tui to Porriño
5 hours walking, 19.8 km walked
(Walking times includes stops for meals and breaks)
Getting up as dawn was breaking over Tui, we took a few minutes as we were gathering our (mostly dry) laundry and getting ready to go back on the road to take in the beauty of this albergue and the views around it. I really love this little courtyard; we'd sat on the stone bench the night before, watching the barn swallows swoop and dive in and out of their nests in the eves of the neighbouring cathedral. As we set out, the sunrise over the Minho lit everything in a golden glow.
Breakfast – coffee, fresh-squeezed orange juice, and the most delicious multigrain croissants – at the Ideas Peregrinas cafe felt almost decadent after a week of instant coffees and yoghurt cups first thing every morning. We lingered over it a bit longer than usual, enjoying the luxury before setting out just after 8am.
Leaving behind the beautiful and well-maintained Medieval city, we found ourselves very firmly in pilgrim country. In Portugal, there were markers and shrines and seashells along the way, but in Spain, where the Camino de Santiago is much more popular, they were more frequent and varied. Many peregrinos start their trip in Tui, as it's just outside of the 100 km you need to complete on foot to receive your Compostela certificate from the pilgrim's office in Santiago. So at this point we went from occasionally seeing other pilgrims along the way to being frequently within site of other pilgrims. I can't say it was welcome; I'd enjoyed the solitude, and I think it's a common experience for pilgrims who've done longer journeys to find the sudden busy-ness of the last 100 km a bit jarring.
Another difference, once we'd crossed into Spain, was the kind of countryside we travelled through. More frequently on forest trails, with occasional forays onto major roads, it's less varied and interesting (in my opinion) than the Portuguese sections, though still very pretty. On this day in particular, with the high at 28C, we were grateful for the shade but still roasting with our packs on our backs.
The path continues over the Medieval Bridge of Fevers, past the Cruceiro San Telmo, the spot where St. Telmo fell ill with a fever in 1246, later dying in Tui. His sarcophagus, but I guess not his body, is still in Tui, in the museum that we didn't get a chance to check out. San Telmo was never formally canonized as a saint, and his first name was Peter, but since he's also a patron saint of seafarers, and Telmo was his nickname, he's associated with Saint Elmo. And if you were born in the 70s or 80s, you probably have this song in your head now.
At Utreia et Suseia Café in Ribadelouro we had our first experience of a Spanish Tortilla, an egg and potato dish that's similar to, but more substantial than, an omelet. This was the best one we had, fresh and hot and delicious. Since our diet in Portugal had consisted mainly of sandwiches with bread, cheese, tomato, and ham (for me), and salads, it was nice to have something different. We were hopeful that finding more delicious tortilla along the way would make meals more enjoyable for Sammi, in particular, because the vegetarian options along the way had been limited and unvarying.
I wish that, before getting to this leg of the Camino, I'd understood more about the countryside we'd be walking through. Though this is, of course, Spain, it's also Galicia, a very distinct region with its own identity and language. The most important lesson: En Galicia, falamos Galego. In Galicia, we speak Gallego. Making sure you're saying hello and thank you in Galego, not in Spanish, is an easy thing to do, and respects the local culture.
One of the most common sights along the way in Galicia are Hórreos, grain cribs that have been in use since the Medieval period, at least, to keep rodents out of the stores of grain. You see them throughout the countryside, but also on magnets and other souvenirs.
The paths along this route are well-maintained but also often ancient, and include roads and bridges that have been in use since the Roman period. It's kind-of thrilling to think of two thousand years of people walking this way, wearing the stones smooth, and then wearing grooves into those stones.
There's a good amount of drinking water fountains along the way, here, too, but you can't let that lull you into a false sense of security – we were pretty good about filling up at every opportunity, and there were plenty of stretches without fountains. And on a hot day, you need every drop that you can carry.
The path for much of the day leads along rivers and streams, including a very pretty forest route into Porrino – but because the Camino once led through the suburbs of the city and was recently re-routed, this has interrupted some local businesses. As a result, Camino waymarkers and yellow arrows are often painted over by local business owners, and re-painted to direct pilgrims along the old route. We enjoyed it – it was really beautiful – but we were hot, tired, and ready to stop for the day.
Arriving at 1:00pm after a pretty short and easy days' walk at the Albergue de Peregrinos de O Porriño, we waited in the shade outside the building with a growing line of peregrinos. Some of the municipal albergues don't open until later in the day, in an effort to encourage pilgrims to use the for-profit albergues, which was the case here – at 2:30pm, the doors opened and they began admitting pilgrims. It was a hot day, but laying in the shade, tired and sweaty, was a fine way to pass the afternoon. On most days, we might have thought about pressing on to another destination, but I had a slight pulled muscle in one leg which was giving me trouble, and the heat had us both beat, so a chance to rest and stretch, and not overdo it, was welcome.
The Albergue is a large, modern building, bright and airy and clearly built with great intentions. But like most of the Spanish albergues, the kitchen had no cooking utensils or serving dishes, and it wasn't particularly clean. The showers weren't great – I had a memorably cold shower in the dark, as the lights weren't working in the women's showers. And whomever designed the dorm, with big windows facing the sunset, must not have been local, as they trapped heat like a greenhouse.
We rested in our bunks for the afternoon before heading into town to get a few groceries and find some dinner, totally famished because we'd time our meals poorly – in Spain, the afternoon gap when stores close in the heat of the day is longer, and there are few exceptions. We found AMAQUÍA O Porriño on Google maps, a bakery with sandwiches that included vegetarian options, and headed over. It's a really lovely spot with excellent baked goods, but I think our omelet sandwiches weren't amazing – Sammi, you'll have to remind me. When we finished out meal, we headed back through the busy pedestrian streets of the old part of Porriño, and stopped at Malosera, a restaurant and bar with sidewalk tables that Brierley raved about in his guide. We had a couple of beer and some snacks to finish off the evening, then headed back to the albergue, where the heat was so intense that I slept without my sleeping bag. Thankfully, with the dorm windows facing a busy street, the white noise from traffic allowed me to get one of my best nights of sleep on the Camino so far.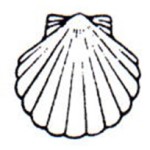 Follow our Caminho Portugues adventure!
Landing Day in Porto
Day 1 – Porto to Vila Cha
Day 2 – Vila Cha to Rates
Day 3 – Rates to Barcelos
Day 4 – Barcelos to Ponte de Lima
Day 5 – Ponte de Lima to Rubiaes
Day 6 – Rubiaes to Tui
Day 7 – Tui to Porriño (you are here)
Day 8 – Porrino to Redondela
Day 9 – Redondela to Pontevedra
Day 10 – Pontevedra to Caldas des Reies
When I'm done posting these, I'll also post an article of my advice for anyone thinking of walking the Caminho/Camino, and I'll link it here!
Photos by Candace Shaw and Samantha Shaw