I spent a month Solo in Morocco in November, 2010, and prior to travelling, I did a fair amount of research on the country. So many people were so helpful in answering my questions; I owe a lot to the Thorn Tree Travel forum, my Rough Guide, and WikiTravel, as well as individual bloggers. Here I've brought together some of my experiences and observations, in the hope that they'll be as helpful to other travellers. I wrote it right after I returned, to give back to the community on Thorntree that had been so helpful to me, but recently a lot of people have been talking to me about Morocco, so I thought I'd post it here. This might be a bit on the long side, but I hope it's useful.
I'll preface this by saying that I'm writing entirely from my own perspective as a white female Canadian, traveling solo on my first trip to Africa. I loved Morocco; I didn't get homesick at all, and I have often wished I was back there since coming home. I love home too, but I would go back to Morocco to visit in a heartbeat. I feel like I barely know anything at all about the country or the culture, and I was generally welcomed and made to feel at home most places I went. I expected to feel lonely as a solo traveler, but I met all kinds of people, everywhere, from Moroccans to international travellers, and I was rarely alone very long. Some of the people I met in Morocco are still my friends today.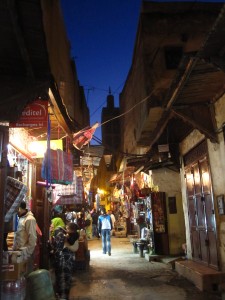 I did occasionally feel overwhelmed by how rich I was in comparison to your average Moroccan; the spending power of the Canadian dollar is much greater in Morocco than it is in Canada. Here, I'm a pretty low-income culture-worker; there, I'm practically wealthy. I didn't plan or book anything in advance, and I found that I didn't have a problem finding good places to stay, because I was there in a quiet season.
My itinerary (Click on the link to be magically whisked away to my photo album from that city!): Land in Casa; train to Rabat (2 nights) Train to Meknes (3 nights) (day-trip to Volubilis via bus) Train to Fez (5 nights) Night bus to Rissani; driven to hotel, camels into Sahara (1 night) Driven from hotel to Rissani, Grand Taxi from Rissani to Ait Ben Haddou (1 night) Met up with a friend with a rental car in Ait Ben Haddou; she drove us over the High Atlas to Marrakech (4 nights) Train to Casa (1 night); early flight home.
Some of my experiences of Morocco:
My best piece of advice for female travelers: if you need directions or assistance, ask a woman. People often say that you never meet Moroccan women, but I think that's because they have no more reason to speak to you than a woman going about her business on the street in Toronto would. If you ask a woman for assistance, they rarely try to direct you to someone's carpet shop or steer you away from your goal, and as often as not you'll find a good conversation. I ask quite a few older ladies for assistance, and they were the best; it was like having a country full of awesome grandmas. I also ended up spending a morning talking and walking with two young women who were really wonderful, because I got really lost in the new city in Meknes and they decided to hang out with me.
Everyone says not to wear open-toed shoes, but I'm not sure why. I got a lot of warnings that in some souks there was stuff on the ground you wouldn't want to get on your feet, by which I assume they mean animal dung and garbage, but most of the places I visited in Morocco were really clean. I wore open-toed shoes, and I had no problems at all.
Everyone talks about the smells, and to me Morocco's Medinas smell mostly of that amber perfume, cedar wood, and tasty food cooking. The butcher's souks weren't quite so pleasant, but weren't terrible, either.
I traveled by train, bus, Grand Taxi, and Petite Taxi, and found them clean, comfortable, and friendly. The trains don't always run on time, but they're not too bad. I wouldn't bother buying First Class train tickets unless its hot, and you want air conditioning; the people on the Second Class train car were super-nice, even when it was packed, and it seemed more fun.

A souk in Meknes

While I was in Morocco, I was often wishing for clothes that were a little more conservative than those I'd brought, which were pretty conservative by my standards back home. Next time, I'd find a shop that caters to women who wear hijab – most Western clothes don't come close. I also felt like a total scrub, most of the time; Moroccan women (and men, too) tend to look pretty elegant and put-together. Rabat was the worst for me – everyone looked pretty chic, and I felt wrinkled and disheveled and like some pale icky thing that crawled out from under a rock.

I'd read all the warnings about male attention, and as a pretty confident woman, I assumed that the people giving those warnings were a bunch of Nervous Nellies. Even after I found the best combination of my wardrobe to cut down on attention in the street, I still occasionally found it a bit overwhelming. I have to say, tho, that my only unpleasant encounters were in Fez, during Eid, when there were very few people on the streets and a lot of bored young men with nothing in particular to do, and in Marrakech, where as a solo woman I got followed a few times and harassed a little bit. It's a really, really touristy city, though, and I assume in that way it's like any large city – it attracts all kinds.
I once tried explaining to a young man who spoke only Arabic that I was married, but because Islamic wedding traditions aren't similar to N. American ones, he mistook my gesture of a ring on my finger for something entirely more suggestive. It's funny in hindsight, but was mortifying when I realized what I'd mimed. Last time I used that gesture, I tell you.
In the night market in Marrakech I got my ass grabbed more times in a few hours than I had in my entire 33 years previously. I learned quickly not to stand at the edge of a group around a storyteller/etc. I'd initially assumed they were trying to pick my pocket, but it became obvious that they weren't very quickly. This was, however, just about the only place in Morocco were anyone tried to touch me. Two exceptions to that: Riad Bahia in Meknes – It's a lovely place, and probably the nicest place I stayed in, but the owner was getting 'way too attentive and a little handsy by the end of my stay. Rissani – waiting for my Grand Taxi to get the hell out of there (I'm sure it's a lovely place, but was sleep-deprived and stressed and I wanted out), I got surrounded by a bunch of kids demanding money. When I kept saying "La, la!" and walked away, one started hitting my arm, at which point I rounded on him furiously and yelled "Don't touch me! Shooma!" and all the kids took off. The guys sitting having tea outside a local cafe had a good laugh.
Weather in November: What a desert country calls a 'rainy season' is still pretty dry for this Canadian (though it may have been atypical). I think it rained about three out of my 18 days, and that rain was rarely more than a sprinkle. But it was chilly; I had taken a few warm things, but I wasn't well-prepared for the lack of heat in the hotel rooms. I had brought a fleece blanket, which came in handy. Contrary to what I'd expected, it was warmer in the camel-hair tent in the desert than it had been in most of my hotels.
Most riads are built around a central, open court, so if you're the kind of person whose going to have say, noisy sex or something, you should probably stick to a newer hotel. Those riads amplify sound like a kettledrum.
I know that (unlike a lot of other places), there's some disapproval about Westerners wearing local-style clothing (djellaba, etc.), but I bought a djellaba while I was there, and wear it around the house here, and it is the most practical, comfortable, and flattering things I own. In particular, the older men in Morocco wearing djellaba look beautifully dignified. I was wishing I could've worn one without feeling weird while I was in Morocco.
In Fez, I accidentally ended up in the stupid tanneries, which are pretty much exactly the same in person as they are on tourist's YouTube videos, except in person you have to work your way out through a leather goods shop. It's a bit like a video game where you have to dodge tourists nodding sagely over "camel leather" pouffes and fashion jackets. I wasn't interested in the tanneries, or in buying leather, and it was stupid of me to get suckered in, but I suspect it's almost impossible to wander Fez without accidentally ending up with a guide to the tanneries at some point.
I went on a one-night camel trek in the desert with Kasbah Bivouac Lahmada; getting there from Fez, I took the overnight bus (Fez – Rissani) which was worse than I ever would have expected (besides everyone puking, an old man had an epileptic fit at about 3am, which was not anyone's fault but was somewhat disturbing). I arrived in Rissani at 4am, where I was met by the hotel, and driven across the desert as the sun rose. There I had a room for the day and hung around the hotel until the trek left at 2pm. I couldn't sleep, so I paced around and fretted for hours with nothing to do. The trip itself was pretty neat, and riding a camel was fun, and the dinner in the desert with the Toureg guides, a bunch of Czechs and a Japanese guy was excellent. I was too tired to stay up much past 9pm. Coming back to the hotel, we were quickly whisked back to Rissani and dropped off at a carpet shop before we had a moment to get our bearings; it was a little difficult to get out of there. I then paid a Grand Taxi 1100 dh (approx $130 CAD) to drive me from Rissani to Ait-Benhaddou, about a 7 hour drive, because I just wanted the hell out of Rissani. I'd paid 600dh for my camel trek. I know it was during Eid, and a lot of people from Kasbah Bivouac Lahmada had gone home to visit their families, but this was the only time I was really on-edge during my entire trip. At least my driver from Rissani was a decent guy, who took me to his mother's house for lunch (as a guest) before we set out and was a good travelling companion. I'm not really adequately expressing the stress, sleeplessness, and frustration of the trip, but I'd say that the Sahara on camelback was just barely good enough to make up for getting there and back out again.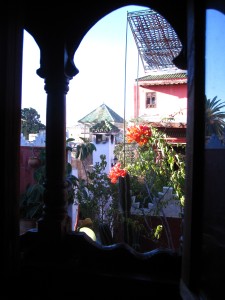 I've found that whenever I talk about what I paid for something, some bright star has to chime in with a "it's ridiculous you paid so much, I paid half that, etc." Bully for them; I bargained fairly well, and paid a lot less for everything there than I would have here, and am happy with that. Aside from gifts, I spent about $60 CAD a day, which wouldn't get me very far in Europe or N. America. I wasn't particularly trying to budget, either; you could go cheaper without sacrificing much in the way of comfort or experience. I didn't intend to do my shopping in Marrakech, but I did after all. I probably didn't get the best deals, but I found that wandering far into the Medina (North, I think, towards the Saadian Tombs), beyond the tourist track, meant that I got much better prices than I was offered near the Djnema al Fna.
What I bought in Morocco that I'm most happy with:
In the souks where they sell bath goods, the best things are the scrubby mitts for the hammam (seriously, I use it every time I shower and my skin has never been so smooth), and the ceramic scrubby things for the callouses on your feet (again, smoothest feet ever, much better than a pumice stone). If I went back, I'd buy more of each. My scrubby mitt is starting to come apart at the seams, and I hope I can sew it up effectively.
My djellaba – I also bought them for my sisters and mom; people in North America wear those stupid Snuggies when we all ought to be wearing lovely djellaba.
I bought about 20 of these shimmery "cactus silk" (rayon) scarves for 300dh, which ends up being just under $2 CAD each, and they were a huge hit at Christmas. I was in Marrakech, in the old Jewish quarter (the Mellah?), near the Place Des Ferblantiers (possibly West of it?).
Speaking of the Place des Ferblantiers in Marrakech, at least one of the lantern shops on the West side of the square is a fixed price shop with actually quite decent prices. I got 5 small lanterns for about $21 CAD. Every time I gave a lantern as a gift, I had other people tell me they wanted one.
Casablanca is a little seedy, but I did have an amazing meal on my last night in Morocco at Rick's Cafe (which cost more than 2 nights accoms, but worth it). It's really beautifully done, the food is great, and though the concept might be a little corny, I really enjoyed myself.
The only hammam I visited was in Fez, where I paid $12 CAD (about 100 dh) for a massage and scrub-down. About half a million people have told me that I got ripped off, but the experience was worth a lot more than $12, and my tired muscles thanked me for it. The hammam was close, steamy, and full of women and little children, and the sunlight streamed through holes in the domed ceiling; it was beautiful. I wish I'd done it more than once. In my hometown, half an hour of massage would run me four times what I paid, and if the old Moroccan ladies who scrub down nervous foreigners want $12, I think they probably deserve it.
I wrote an article about my Hammam experience, which you can read here.
Meknes really does have the best mint tea; Marrakech has the worst food. I wish I'd made it to Essaouira and Chefchaouen. If I went again, I'd spend more time learning Arabic phrases; I knew a few basic words, but people really seemed to appreciate the effort to be polite in Arabic, and I wished I'd known more. I drank the water, from public fountains/etc., and experienced no ill effects. I hope to make it back – I felt at home for almost the entire trip, and would like to spend more time there now that I understand it a little better.
I hope that's helpful – three years later, I'm still longing to go back. I've done a little travelling in Europe and North America, and Morocco is the only place that I'd go back and spend another month travelling in.
So, anyone want to go travelling with me?
if you'd like to read a bit about my time in Morocco and dream of your own trip to this beautiful country, check out my posts from 'way back then – Backpacking in the Maghreb, My First Hammam, or try my recipe for Preserved Lemons!