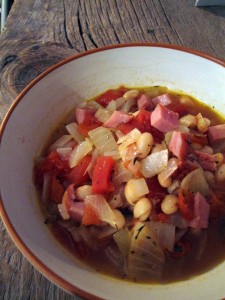 Coming home from an afternoon of cross-country skiing, I was ravenous and craving something hearty and piping hot. Thinking over the things I had in my fridge (some leftover ham, a cup or so of navy beans, some vegetable stock, half a bottle of rose, I decided to try making a soup. The result was this beauty, a soup so delicious I'm glad I don't have to share it with my vegetarian sisters (sorry, dudes!).
All of these measurements are suggestions, and the soup would be perfectly good if you doubled the beans and tomatoes and left out the ham, or made it as written and left out the rose, or used red wine instead. I mean, it's soup, not rocket science. Just be sparing with the salt until you're near the end.
Ingredients
2 onions, diced
1 tablespoon butter
1 tablespoon dried thyme
salt and pepper to taste
1 cup diced tomatoes
1 cup cooked ham, cubed
1 cup cooked white navy beans
1 1/2 cups stock
1/2 cup rose or red wine
Directions
In a medium saucepan, saute butter, onions, and half of the thyme.
When onion is soft, add ham, onions, tomatoes. Bring to a boil.
Simmer soup, adding salt and pepper to taste and remaining thyme, for 10 minutes.
Add wine and stir. Simmer an additional five minutes.
Serve!