Quinoa and Corn Salad Recipe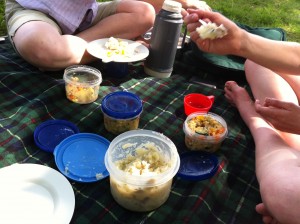 We've been interested in picnicking for a few years now; something about packing up a lunch and going somewhere green and lovely to eat it on a blanket on the grass feels so special and nice. We've got one of those picnic knapsacks, with all of the cutlery and everything, which we've been using as our camp kitchen for years, and we're building a list of excellent and easily-portable recipes.
In the midst of an unexpectedly sweltering May day, we decided to make a few salads and bicycle down to the Trent-Severn Canal, on the bank of Little Lake, to have our first picnic of the year.  This recipe, one I'd discovered online and altered to suit the ingredients I had on-hand, was a big hit (we also had German Potato Salad and Strawberry Rhubarb Pie).
I have to say that you could just do the first step and stop there and have something so good that we barely managed to continue on from there. Only the fact that I'd already chopped up the other ingredients made me continue, and though it was totally delicious and awesome, the plain corn and quinoa combination would probably make an amazing breakfast – kind of porridge-y, with a mild sweetness. Almost dessert-y. A little bit decadent. I recommend both!
Corn and Quinoa Salad Recipe
Serves 6; 
Ingredients
1/4 cup freshly squeezed lemon juice
1 teaspoon ground cumin
1 teaspoon chili powder
1 medium garlic clove minced or pressed
1/2 cup extra-virgin olive oil sea salt
1 1/2 cups quinoa thoroughly rinsed and drained (about 4 Cups cooked)
2 ears corn kernels cut from cob
1 medium red pepper cored, seeded, and diced
1 large cucumber peeled, halved lengthwise, seeded, and diced
3 green onions, sliced
1 large jalapeno pepper seeded and diced
1/4 cup roughly chopped fresh cilantro leaves
Sea salt
2 ripe medium tomatoes, cut in wedges
Directions
Bring 2 3/4 cups water to boil in a small saucepan and stir in the quinoa and some salt. Return to boil, reduce heat to simmer, cover, and cook until water is absorbed, about 15 minutes. Turn off heat, place corn kernels on top of quinoa, cover pan, and let stand for 15 minutes. Stir corn into quinoa.
In a small bowl, whisk together lemon juice, cumin, chili powder, garlic, oil, and salt to taste; set aside.
Place quinoa and corn, red pepper, tomato, cucumber, scallions, jalapeno, and cilantro in large bowl. Add dressing and salt to taste; mix until combined.
Serve immediately or hold briefly at room temperature.
It serves about 6, as a side salad, or maybe more if you don't eat a tonne of it at the first step. Ahem.
Nutritional Info for this recipe: