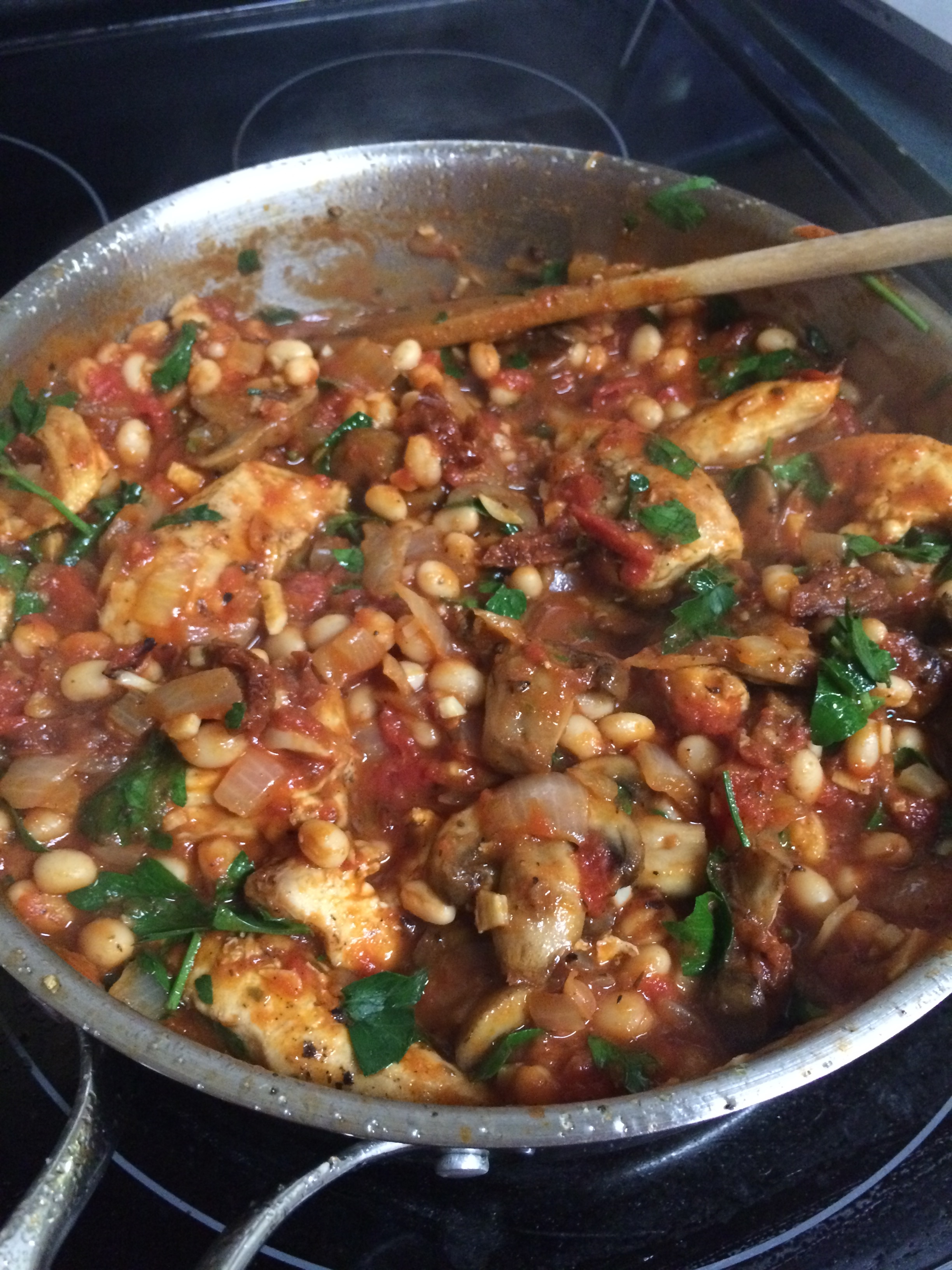 I'm always looking for reasonably quick, easy recipes that are reasonably healthy and freeze well, so that I can take them to work for lunch. Tuscan Chicken Skillet ticks all of the boxes, but it's also super-delicious. It's nice, when you're surrounded by take-out lunch options that aren't great for your but are incredibly tempting, to have something home-cooked and tasty ready to go.
I try to spend Sunday nights cooking, so that I can eat well all week, and though it's not always possible, when I do have the time it's awesome.
I'll note that this recipe was initially written up as a low-mess, one pot meal, but while I only use one pot, I use a lot of other bowls to hold cooked ingredients before adding them back in, so I wouldn't really count it as a one-pot meal.
You could totally leave out the chicken to make it a vegetarian/vegan side-dish, or maybe sort-of a stew. I'd recommend using fire-roasted tinned tomatoes if you can find them, as they do add flavour, but regular tinned tomatoes are fine.
Ingredients
1 pound chicken breast, sliced into smaller pieces
1 teaspoon kosher salt
1 teaspoon freshly ground black pepper
2 tablespoons olive oil, divided
12 ounces brown mushrooms, sliced
2 large onions, diced
6 cloves garlic, minced
2/3 c. sun-dried tomatoes, chopped
1 teaspoon oregano
1/2 teaspoon thyme
1 (14.5 oz) can Cannellini Beans, drained and rinsed
1 (24 oz) cans fire roasted diced tomatoes
Salt and pepper, to taste
Parsley for garnish
Instructions
Season the chicken with salt and pepper.
Heat 1 tablespoon of olive oil in a large sauté pan or cast iron skillet over medium-high heat, then add the chicken and brown for a few minutes on each side (the chicken will cook more later).
Remove chicken and set aside on a plate.
Add the remaining tablespoon olive oil to the pan. Add the sliced mushrooms in a single layer and brown, working in batches, a few minutes per side. Remove from the pan and set aside.
Add the onion and sauté until fragrant.
Add the garlic, and sundried tomatoes. Sauté for 2 minutes.
Stir in the oregano, thyme, beans, and diced tomatoes.
Transfer the chicken back to the pan and spoon some of the sauce and vegetables over top of the chicken.
Cook, covered, on the stove top until the chicken is cooked through and the sauce is bubbling, about ten minutes.
Return the mushrooms to the pan. Taste and add salt and pepper as needed.
Serve hot, garnished with parsley.