By all accounts, 2016 has been a pretty miserable year for most people. I haven't been immune to that, but there have been loads of good things, too, and I'd much rather think about them!
In the Winter, I started running regularly, and was pretty close to being able to run 5K when Bronchitis hit and put the brakes on my running for a while. This is kind-of a big deal for me, as running (or any other physical activity besides dance) isn't something I've ever been into, and it's nice to have a milestone like that. I'm hoping to hit that goal in 2017, if only so that I have the stamina to run from fascist gangs in the dystopian future we're presumably entering.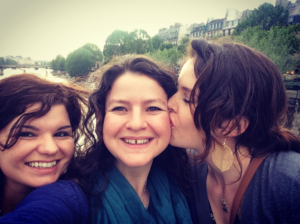 In March, I submitted a grant application to the Ontario Arts Council to run professional development workshops for women-identified people, primarily Intro to Live Sound, and it was successful! So far we've partnered with different orgs to run about 7 sold-out workshops, which is terrific. We've got the funding to run some more, which are coming up in 2017.
I was excited to speak on a panel at Folk Alliance International with some terrific people, including Roxanne de Bastion and Nan Warshaw (Bloodshot Records). I also hosted the International Showcase Room for the second time, and am hosting it in 2017, as well! At Folk Music Ontario, Canadian Women Working in Music co-presented one of our Live Sound workshops, and I hosted the Women in Music Meetup, which was terrific.
I got to travel a few times this year – to Kansas City for Folk Alliance, to Paris with lovely Ash and Catherine, and to Charlottetown at the invitation of Music PEI. All three trips were incredible for their own reasons; brilliant people, food, music, and good times. More than I can say here, I am grateful to the wonderful people – some of whom I met for the first time on these trips, some who are old friends – who make all of these adventures so wonderful. XOXOXO, lovelies!
Life at The Distillery District was busy, too – I re-designed and implemented a beautiful, functional new website, implemented a brand-new brochure, worked with the team at the NHL to host the NHL World Cup of Hockey, booked and presented the gorgeous Music City Summer Series, curated the lovely Distillery Sunday Market, and of course, worked with the terrific Toronto Christmas Market team to produce the festive magic that we're known for.
It's been a weird year. We all know it. I'm worried about the world, about the future, and saddened by the deaths of so many artists I've loved – I'm particularly sad about Prince, Carrie Fisher, and Alan Rickman' deaths. I'm sad about the American election. But I'm hopeful – we can come together, and make positive change.
To that end,
Let's do this, 2017!
Resist
Resist despair, injustice, and peer pressure to shut up and be nice and stop making people uncomfortable. Resist malaise, the easy path, and the normalization of racism, sexism, and fascism.
Pay Attention to My Health
I tend to ignore symptoms, or excuse them away, because I'm so used to being broke and living in a city with a doctor shortage. It's not the case these days, and yet out of habit I just get on with things, even when I'm feeling terrible. It's not productive or fun, and it's pretty stupid.
Keep it Light Enough to Travel
I feel like I'm ready for a change, like it could be just around the corner. I want to be ready to jump. Be ready, on my toes, expecting the best.
Journal Regularly
I've fallen out of the habit of writing regularly for myself, again, and I need to get back on track. The way forward is always clearer, and my goals easier to achieve, when I write out all of the noise in my head on a page in my own spidery hand and remind myself where I'm going.
Be Joyful
We are winning; the world tends towards social justice. We have setbacks, but we are winning. I have incredible friends around the world; my life is full of music and beauty and unexpected loveliness. I have so much; I am given so much. I will celebrate it.
Wishing you all a healthy and prosperous 2017, wherever you are.
Athbhliain faoi mhaise daoibh!