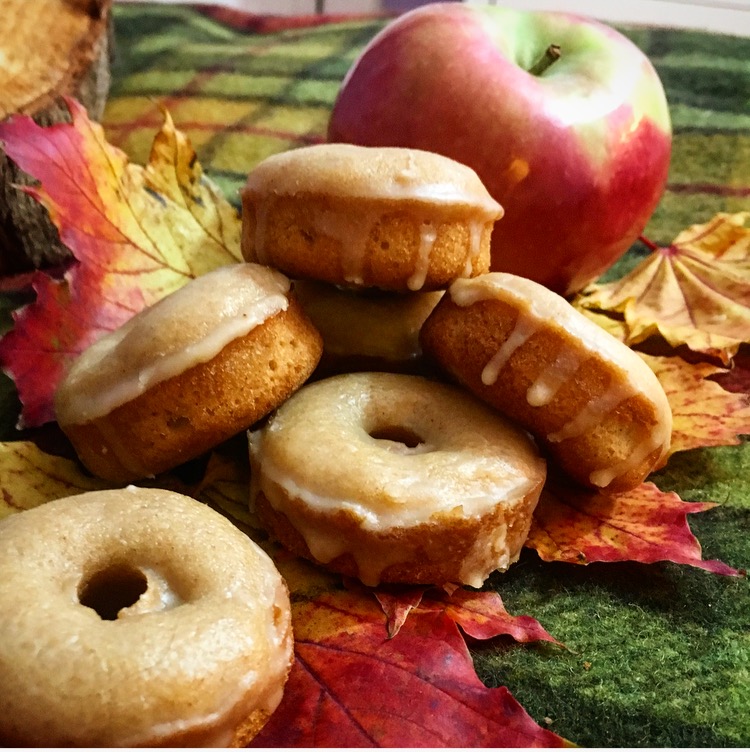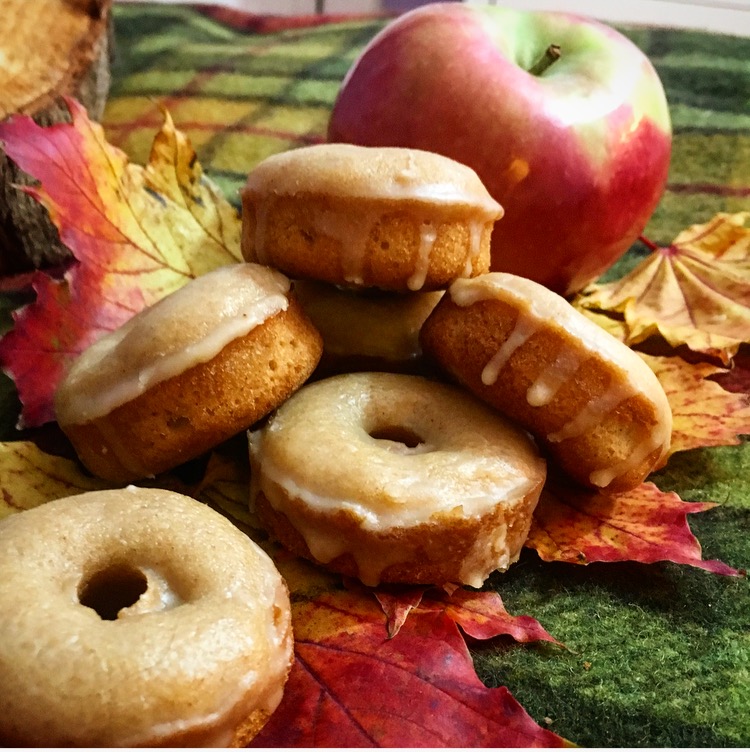 There's a crispness in the air, the smell of woodsmoke and leaf mould fills my nose, and the trees are blazing in beautiful colours. All I want to do is bake and make comfort food, but I have a broken wrist, so most of my favourite recipes which involve rolling out dough or chopping vegetables are out of reach for the next few weeks while my bone knits back together.
So here's a recipe that I can do one-handed, and I'm sure you can too, though if you don't have to I wouldn't recommend it. These doughnuts are baked, so really they're kind-of a circular muffin, but they're very cute so let's not tell anyone, okay?
I bought my mini doughnut pans at Tap Phong on Spadina in Toronto, a wonderland of excellent kitchen and restaurant supplies at good prices. Read to the bottom of the recipe for two topping options – a cinnamon-sugar coating, or a maple glaze.
Apple Cider Doughnuts
2 cups apple cider
8 tablespoons unsalted butter, softened
3/4 cup sugar
2 large eggs, room temperature
1 1/2 teaspoons vanilla extract
2 1/4 cups all-purpose flour
1 teaspoon ground cinnamon
1 teaspoon baking powder
1/2 teaspoon baking soda
1 teaspoon salt
Directions
Bring apple cider to boil in large saucepan over high heat.
Reduce heat slightly and simmer until cider is reduced to 1 cup, approximately 20-30 minutes.
Set aside to cool.
Preheat oven to 375 degrees and set rack to middle position.
Cream butter and sugar at medium speed until fluffy.
Add eggs, one at a time, beating well and scraping down bowl after each addition.
Add vanilla and mix well.
In medium bowl, sift flour, cinnamon, baking powder, baking soda, and salt.
Add flour mixture to butter mixture in 3 parts, alternating with cider in 2 parts, and mixing well beating after each addition, scraping down bowl as needed.
Pipe or spoon batter into doughnut cavities and transfer to oven.
Bake until firm and toothpick inserted in doughnut comes out clean, 7 to 10 minutes, rotating pan halfway through baking.
Transfer to wire rack and let cool in pan for about 3 minutes.
Turn out onto wire rack.
Repeat with remaining batter.
At this point, you have options! While they're still hot, you can mix together cinnamon and sugar (maybe 3/4 cup sugar to 1 tablespoon cinnamon) and roll the doughnuts in it to coat them. If you didn't get a chance to do that while they're warm, you can brush the doughnuts in melted butter and then roll them in the sugar-cinnamon mixture.
There are lots of other topping options, but I'm feeling an autumnal spirit, so I went with:
Maple Glaze
Ingredients
2 tablespoons butter
1/2 cup (or more) powdered sugar
1/4 cup maple syrup (real maple syrup only, yo)
Directions
Melt the butter over low heat until just melted.
Mix in maple sirup and powdered sugar, and stir until the sugar is well dissolved.
Dip the doughnuts in the glaze and let harden and cool.
For more delicious recipes, please visit our Family Recipes page!