Chocolate Pavlova with Fresh Fruit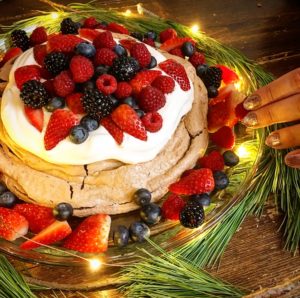 Over the holidays this year, the temperatures were frigid – sometimes as cold as -31 C, but often -20 C, so we spent a lot of time indoors. As a result, my sister Cassie and my mom and I watched a lot of the Great Canadian Baking Show and the Great British Baking Show while quilting and knitting, and it inspired us to try some new things, including this Chocolate Pavlova. Though Cassie swears we've made a Pavlova before, I can't remember ever trying it, so as far as I'm concerned, this was my first one.
I was initially going to go with a plain vanilla Pavlova, but Cassie was in the mood for chocolate, so Chocolate Pavlova it is! We made this for our New Year's Eve get-together, and it ended up being both pretty and delicious, one of those desserts that doesn't last 24 hours in our house. It's simple, yummy, and festive, which makes it perfect for special occasions.
Though it technically isn't a tradition, since this is the first time we've tried it, I'm going to call this recipe a part of my Shaw Family Christmas Recipes series; you can find the rest of our annual cooking and baking traditions there.
Chocolate Pavlova
Ingredients
For the Meringue
4 large egg whites, room temperature

1/4 cup dark-brown sugar

3/4 cup superfine sugar

Pinch of salt

1/2 teaspoon pure vanilla extract

2 tablespoons unsweetened cocoa powder
For the Topping
1 ¼ cups Whipping Cream

3 tablespoons maple syrup

Fresh Fruit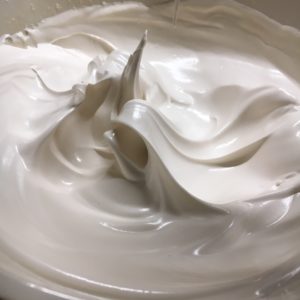 Directions
Make the meringue:
Preheat oven to 300 degrees.

Line a rimmed baking sheet with parchment.

Draw an approximately 8-inch circle on parchment, then flip.

Mix egg whites, brown sugar, superfine sugar, and salt in a very clean, dry, ceramic or metal mixer bowl set over a pan of simmering water.

Whisk constantly until sugars dissolve and mixture is warm, about 3 minutes.

Remove from heat, and beat on medium-high speed until stiff peaks form, about 8 minutes.

Beat in vanilla.

Sift cocoa powder over meringue, and fold until barely any streaks remain.

Using a spatula or a large spoon, spread meringue into a round, using the circle on the parchment as a guide. (don't fill the circle – fill within an inch of the circle; meringue will spread more during baking.)

Form a well in centre, being careful not to spread meringue too thin.

Bake meringue until dry to the touch, about 1 hour. It will rise and spread.

Chill a glass/ceramic mixing bowl.

Add whipping cream and maple syrup to chilled bowl.

Whip on medium-high setting until mixture reaches desired consistency.

Spread whipped cream evenly in center of meringue, leaving a 1/2-inch border from edge.

Garnish with fresh fruit, and serve immediately.