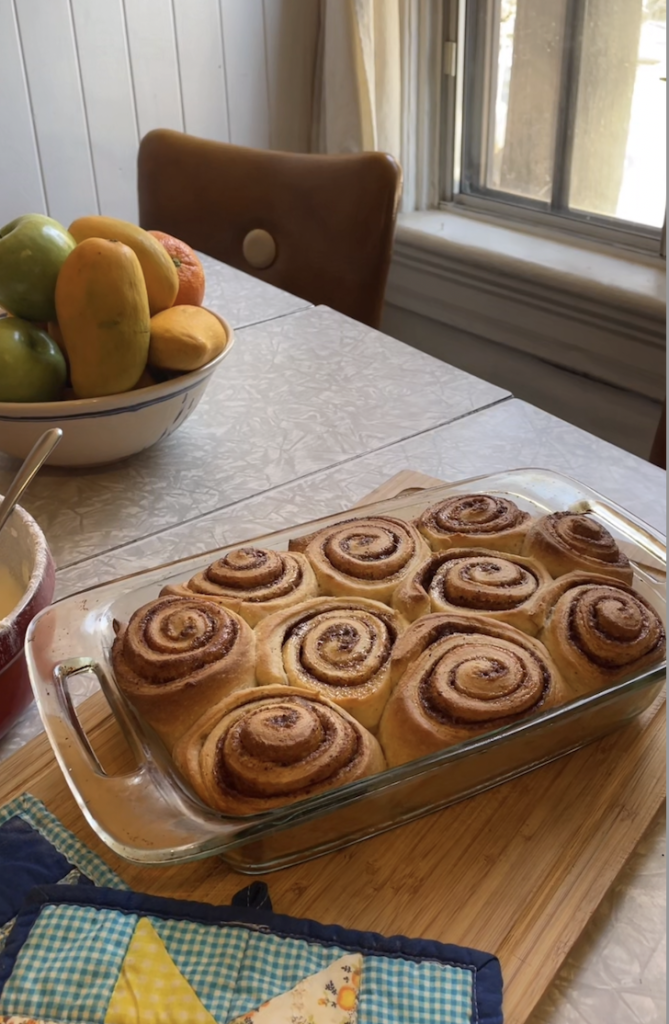 This recipe for cinnamon rolls was originally written to be made with a standing mixer and a dough hook, but I've altered it. since I don't have one. The only real difference is that it may take a but of muscle to get the dough ingredients combined (and of course, I got impatient, as I do, and got my hands into it to mix it thoroughly).
I know that standing mixers have been The Thing for Serious Home Cooks for a long time now, but they're expensive, and while I'm sure I'd get some use out of one, I mostly view them as a dust-catching status symbol that takes up more kitchen counter real estate than it's worth. I totally understand aspirational kitchen purchases – lots of us want to be the kind of person who gets regular use out of a standing mixer! – but for me, if it's taking up usable space in my kitchen, it better werk.
There are two rising times for cinnamon rolls, so I like to do the main part on day one, then refrigerate them overnight, and have the second rise and the baking the next day. Just like with my croissants, they're not a lot of work, but often people get a bit scared by the idea of a recipe that stretches over more than one day; take it from me, you shouldn't be. It's like a gift to your future self. And then you can tell people 'these cinnamon rolls took two days to make!' and they'll be very impressed :)
I know a lot of people shy away from recipes that require kneading, but I think that's more due to uncertainty about how to do it right than because it's hard; personally, I love kneading, but I am much too aggressive, and always over-knead everything. Just give it a go; you may overdo it or under-do it, but it's a skill you only learn by doing. And the results are still pretty good, even if you don't do it perfectly. We're not aiming for perfection, just progress.
Cinnamon Rolls
If you're thinking about making these today, go to your fridge right now and take out the butter, egg, and cream cheese so that they're room temperature when you get started.
Prep Time 30 minutes
Rising time 2.5 hours, minimum (two separate rising times – you can make these over two days, if you like)
Cook Time 28 minutes
Serving: 10-12 rolls
Equipment
8×10 inch baking dish or larger
Unflavoured dental floss, or a sharp knife
Ingredients
The Dough
3 1/2 cups all-purpose flour (420g) – plus more for flouring your work surfaces
1/4 cup granulated sugar (50g)
1/4 cup light brown sugar (50g)
1 tsp salt
2 1/4 tsp instant yeast (1 package)
1 tsp cinnamon
1 pinch nutmeg (optional)
1 egg large, room temp
1/2 cup milk (120mL)
1 tbsp vanilla extract (15mL)
1/2 cup sour cream or Greek yogourt (120g)
6 tbsp butter (85g)
For the Filling
4 tbsp butter room temp, (57g)
3 tbsp granulated sugar
2 tbsp light brown sugar
1 tbsp cinnamon
For the Glaze
4 oz cream cheese room temp, (114g)
2 tbsp butter room temp (28g)
1 tbsp vanilla extract (15mL)
1 pinch salt
1 tsp lemon juice (5mL)
2 cups powdered sugar (200g)
1 tbsp milk – plus more if needed for consistency
Instructions
An hour or two before you get started, go to your fridge and take out the butter, egg, and cream cheese so that they're room temperature when you need them.
Go do it right now!
For the Cinnamon Sugar:
Mix cinnamon and the two sugars in a bowl then set aside.
For the Cinnamon Rolls:
In a large bowl, add the flour, salt, spices, and sugars and yeast, then whisk together to combine and set aside.
In a separate bowl add the milk, butter, vanilla, and sour cream. Microwave until warm to the touch and whisk until combined.
Pour the wet mixture into the dry, and mix to combine.
Drop the egg in and mix until the dough comes together and is tacky, but doesn't stick to your fingers. I got my hands into it at this point, because it was more efficient than using a spoon to mix them.
Dump dough out onto a floured surface and knead for about 5 minutes, sprinkling with additional flour as needed, then transfer to a large oiled bowl.
Cover and allow to rise in a warm place, one and a half to two hours. When it's done rising, it should have more than doubled in size.
Punch the dough down.
On a well-floured surface roll the dough out into a rectangle that's 1/4 an inch thick.
Spread the room temperature butter over the surface leaving a little less than an inch at one of the narrow sides.
Sprinkle generously with the cinnamon sugar then roll the dough into a tube
Using a piece of dental floss like a garrote, or a very sharp knife, cut the dough into even pieces about an inch and a half long. Using dental floss to do this is extremely satisfying, and doesn't squish your rolls like a knife does.
Place the rolls cut side up in a baking dish and allow to rest in a warm place for about 40 minutes for a final rise.
Make the glaze (instructions below) while the rolls are rising or during the bake.
Heat oven to 350F and Bake for about 28-30 minutes or until lightly browned on top. If your cinnamon rolls are getting a bit too brown at the 20 minute mark then cover loosely with foil and continue to bake.
For the Glaze
Place the cream cheese, butter, vanilla, salt, lemon juice and a tablespoon of milk in a bowl and beat until smooth.
Once smooth add the powdered sugar and beat once more until fully incorporated. You can mix in an additional tablespoon or two of milk if you prefer a thinner frosting.
Drizzle about half of the glaze over the cinnamon rolls immediately after you pull them from the oven, to let it melt into them.
For serving, drizzle additional icing over the rolls.
Recipe adapted from Preppy Kitchen, who has great video tutorials and a cookbook!