Shrimp & Bacon Fettuccine
This Shrimp & Bacon recipe has been a staple dinner of mine for a few years now; I love it because it's really simple to make, really delicious, and it always feels a bit indulgent and celebratory. When I want something hearty and flavourful, especially in cold weather, this is what I make.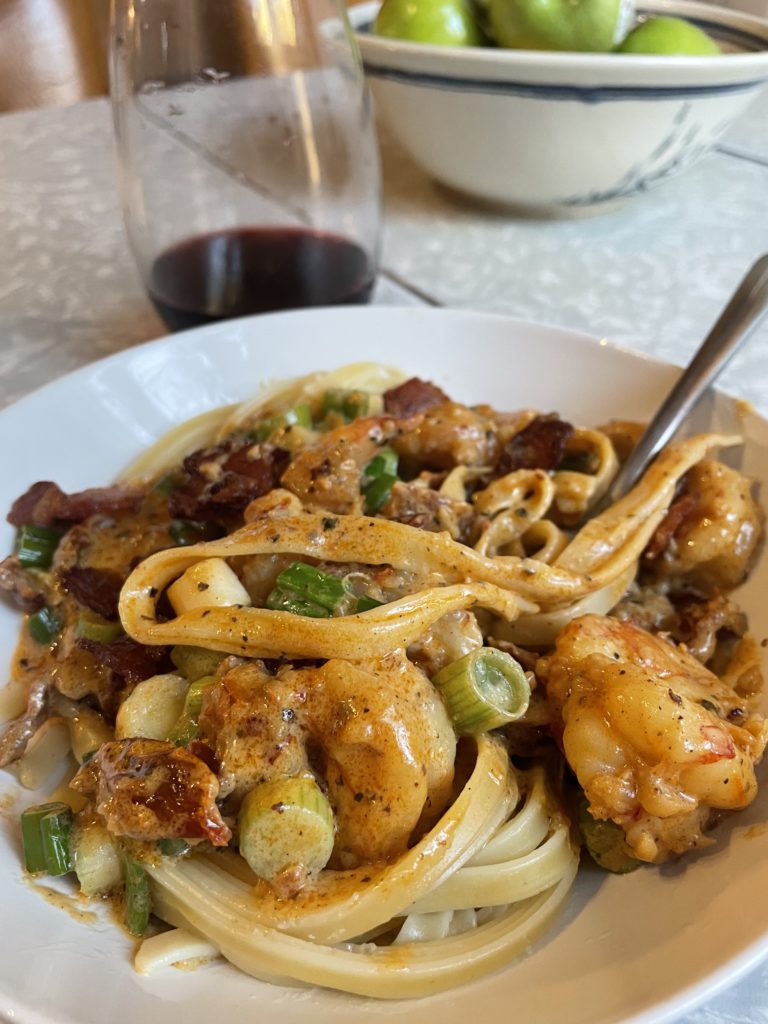 And it's pretty easy to keep most of the ingredients on hand – I usually buy frozen raw shrimp & bacon whenever I see them on sale, and keep them in the freezer. I've done the same with fresh Parmesan – though I'll note that when you try to grate frozen Parmesan, it gets a bit powdery, which is perfect for this recipe, but is good to know. I've also made this recipe with the powdered Parmesan that comes in a plastic tub, which works fine in a pinch.
I make it with dried basil, which isn't usually my preference, but in this recipe fresh basil might be too much competition with the other flavours.
The bacon and green onions are recent additions I've been making to this recipe, and without them it's still really delicious. If you're not using bacon, fry the garlic and sun-dried tomatoes in a little olive oil.
If you're using frozen raw shrimp, run them under cold water to thaw before cooking. I also use this as an opportunity to remove the shells; I don't really understand why most cooks leave them on in a pasta, but that may be a personal preference (I know they add depth of flavour, and are edible, but I find them annoying af). If you want to be thrifty, you can freeze them and use them later to make shrimp stock.
It's also great as leftovers – I usually get 2-3 lunches out of this if I make it for myself. Though it's technically about 4 servings, I'd say it works best as a dinner for two.
Shrimp & Bacon Fettuccine
Ingredients
1/2 package bacon
300g raw shrimp (you can definitely add more)
1/2 cup sun-dried tomatoes in olive oil (or more, to taste)
salt and pepper to taste
1/2 teaspoon Hungarian paprika (regular paprika is also fine, but not as tasty)
4 garlic cloves, minced (I sometimes use a whole bulb, 4 is kind-of the minimum)
1 cup cream
1 teaspoon dried basil
red pepper flakes to taste
1 cup Parmesan cheese , freshly shredded
fettuccine pasta (I don't really know how to measure pasta, but I usually make enough for 3-4 servings)
green onions, chopped
Directions
In a large skillet, fry bacon until it reaches desired crispiness. Remove bacon from pan and set aside; do not drain bacon fat.
In bacon fat, saute minced garlic and sun-dried tomatoes for a few minutes until the garlic is fragrant.
Add shrimp, sprinkle with a small amount of salt and all of the paprika, and cook on medium heat for a few more minutes.
Add cream, basil, and red pepper flakes to the skillet with shrimp, bring to a slight boil, and reduce to simmer for a few minutes.
Mix in the parmesan and stir to combine over low heat
Remove the sauce from heat. Add more salt, basil, and more crushed red pepper if desired, to taste.
In the meantime, cook pasta according to package instructions.
Place cooked pasta in bowls, and spoon shrimp & cream sauce over it.
Top with crumbled bacon and green onions.