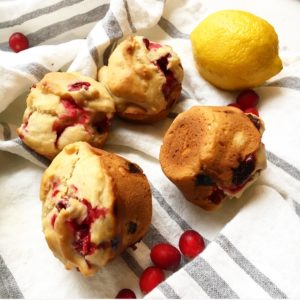 Update 2019: Ten years later, this is still my favourite muffin recipe! I usually load it full of cranberries, but you can substitute other fruit – I think raspberries work really well, and blueberries would probably be great. But I love the tart-sweetness of the cranberries, and i usually add more than this recipe calls for. I also really like the way maple syrup sweetens the batter – it seems to blend better (in my opinion) than honey does, but either is great.
2009 Post: This is my favourite muffin recipe ever; not particularly sweet, packed full of tart cranberries, pretty much perfect. If you're one for the coffee-shop sugar-bomb muffin, you probably will not like these at all.
The original recipe as I was given it included a glaze of sugar and lemon juice that you drizzle over the muffins after they've baked, but I never bother because, while it's delicious, it's awfully messy.
Ingredients
2 1/2 cups all-purpose flour
1 tablespoon baking powder
1/2 teaspoon salt
1/2 teaspoon cinnamon
1 egg
1 1/4 cups milk
1/3 cup vegetable oil (I use olive)
1/3 cup honey or maple syrup
1 lemon's worth of zest
1 1/2 cups cranberries (fresh or frozen, more to taste)
Butter (or similar) to grease muffin tins
Directions
Combine first 4 dry ingredients in a small bowl, sifting well.
Combine egg, milk, oil honey, and lemon rind in a large bowl.
Add dry ingredients to mixture.
Stir just until dry ingredients are moistened. Fold in cranberries.
Spoon batter into greased muffin tins. Bake at 400 F for 20-25 min or until golden.
Makes 12 muffins.
Each muffin is about 200 calories.