Paris: a city that's , surprisingly, pretty much as good as people say it is.
My sister Cassie and I got a last-minute deal on air and hotel for seven days in Paris at the end of March, and we jumped on it.  While we were there, the sun shone every day in a picture-perfect blue sky, the temperature stayed steadily around the 18C mark, the flowers were blooming and the grass was green.  We walked or took the Metro everywhere, saw most of the things we wanted to see, and really packed our days full of some of the best things that the city has to offer visitors.  I found the people of Paris generally very forbearing, responding to my pathetic sentence construction and terrible accent with cheerfulness.
I also found the city quite inspiring; from an urban design standpoint, it's wonderful (they really know how to create public spaces), and from an art history standpoint, it's a feast, particularly in Montmartre, where we were staying.  Though I've only come 'round to the Impressionists' work lately, I've always had a great deal of respect for them, and to walk in their footsteps and see their works in person was a powerful thing.
I'm never much of one to write up my adventures right after I've had them, but I can recommend some great places & resources.
We skipped the Louvre; I know it's awesome, but I feel like the scope is too overwhelming for our first trip, when there were lots of other things we wanted to see and do.
Because it was a spur-of-the-moment deal, we had little time to plan, but the one website I found invaluable was Manning Krull's Cool Stuff in Paris. It's as though he set out to write a travel guide just for me, and I wish there was a Manning in every city I travel to. I also found Girls' Guide to Paris really useful!
Musee d'Orsay' €14 (Passport Ticket)
On our first day in Paris, we bought the Passport ticket for Musee d'Orsay and Musee de l'Orangerie, and spent a few hours in the former.  Both Cassie and I could've spent an entire day in this museum; though neither of us were really blown away by the special exhibit Degas and the Nude, the museum's collection overall is terrific.  From a beautiful scale model of the Palais Garnier to Art Nouveau interiors and a special exhibit on Finnish artists, we were both pretty absorbed the whole time we were there and left reluctantly (even though our footsoreness was getting in the way of our enjoyment).
Neither of us liked Musee de l'Orangerie quite as much, though seeing some of Monet's huge water canvases was fairly inspiring, and the Debussy special exhibit was good (but so crowded!).
Musee des Arts Forains €14
Easily one of my favourite museums ever, the Musee des Arts Forains is a collection of carnival and sideshow art and fixtures that completely enchanted me.  Though our tour guide spoke only French, we kind-of caught the gist, and he was charming, funny, and diverting, if the reactions of the rest of the French-speaking crowd are any gauge.  There are two carnival rides that we were allowed to ride, and one game we could play, and then a whole room dedicated to an Animatronic Venice masquerade-operette.  It's wonderful, and I would recommend it to anyone, but I especially recommend it to people who love decorative arts, the macabre, and the unusual. You have to book in advance!
Walking up to La Basilique Sacre-Coeur Free
It became our habit to take a stroll up the butte through Montemartre to Sacre-Coeur every evening; not straight up the hill, but along Rue des Abesses and Rue Lepic, past Vincent and Theo Van Gogh's old apartment and up into the carnival-like atmosphere around the Basilica at night.  One night we stumbled on a choral concert in St. Pierre de Montmartre, and every night it was a lively, bustling hive of (mostly tourist) activity. Grab yourself a crepe a emporter and have no where in particular to be that evening; that's the best.
Palais Garnier' €9 to tour, €10 for the show
I am a fan of Gaston Leroux's novel Phantom of the Opera, and of course I wanted to visit the Paris opera house in which most of the novel is set. We opted to both tour the opera and go to see a show, and I'm very glad we did, because though building itself is gorgeous, the theatre really comes alive when the singers take the stage.  When we arrived looking for tickets that night, the man directing us said "You're going to have to pray, and be lucky." We ended up opting for the cheapest seats on another night, and even though it was 'obstructed view' seating, La Veuve Joyeuse was a fun show which we mostly understood (even though it was sung in German, with French surtitles).
The best thing about the seats was the terrific view of the theatre, and that Mark Chagall's 1964 ceiling mural was completely hidden from us (I agree whole-heartedly with the people that dislike it).
The Metro €12.50 carnet (10 tickets)
Man, I love the Paris Metro. Clear, easy-to-read maps, low prices, and density – you can pretty much get everywhere on the Metro.  It's wonderful. Insomuch as public transit can be a highlight, the Paris Metro was a highlight for me.
Favourite Paris Apps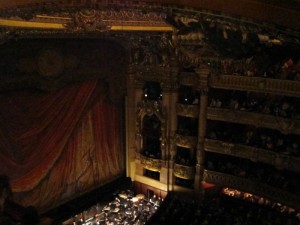 Though I'd understood free wifi was fairly available in Paris, I have to admit that I had a harder time finding it than I did finding free wifi in Morocco.  However, these apps were all useful without a connection. I travel with my old iPod Touch, and it's a huge boon not to be lugging a heavy guide book with you every where.
Free and Frugal in Paris ($2.99)
The listings are pretty good, and while I wish I could have broken down categories further, it was full of great suggestions.  In particular, the restaurants it lists are great, and the maps are accessible offline. The Editor's choices sometimes really frustrated me, but overall, I think it was worth the money I spent on it.
Time Out Paris (Free)
A fairly comprehensive listing of things to do, see, and places to eat in Paris, though their suggestions for shopping are completely fucking ridiculous.  I'm not one who finds browsing stores that are ridiculously out of my price range fun, but that may be a thing other people really enjoy, I guess.  Lots of good suggestions, and they include some great low-cost options that Free and Frugal skips.  You can't sort by price, unfortunately, so you have to do a fair amount of reading to find the best deals.
Paris 2 Go (Free)
The listing descriptions are Wikipedia entries, which is nice if you're looking for comprehensive information that hasn't been processed through a faux-cheery tourist guide voice. But the place this app really shines is it's lovely, detailed, and offline-searchable street map of the City.  It even lists Metro stops, which is wonderful.
I also have the Google Translate app (searching phrases while connected to wifi saves them for later use!), a Currency converter app, and a World Clock app, which all come in handy while travelling.
We were pretty lucky to get to go on the trip at all, let alone be blessed by such great weather and excellent experiences; I would recommend Paris to anyone, and look forward to going back myself someday soon!