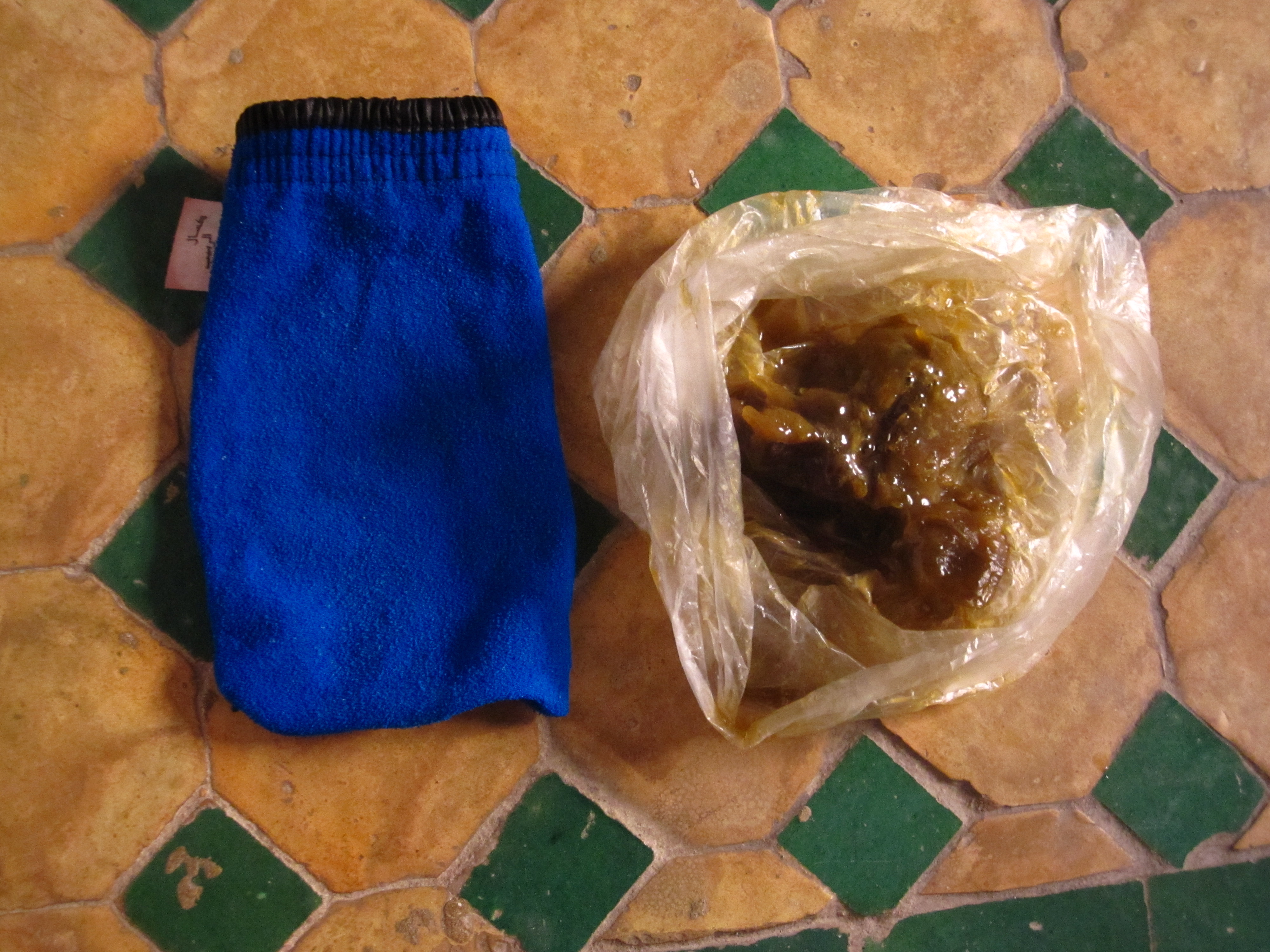 My trip through Morocco has been terrific so far, with many serendipitous encounters and lots (and lots, and lots) of interesting, friendly new people. Last night at my Fez guest house, Pension Dar Bou Inania, I met an American woman who's also traveling solo. Melissa joined myself and some other Canucks for breakfast at Cafe Clock (my home-away-from-home in Fez), and asked me over pancakes and fresh-squeezed orange juice if I'd be interested in joining her at the Hammam this afternoon. I'd tried to get to a hammam with some other travel friends in Meknes, but had missed the appointment, so I was happy to find a companion for our first time in a communal Moroccan bathhouse.
Going to a hammam is one of those cultural experiences that I really wanted, but was a little trepidatious about because (especially as a Canadian), I don't want to step on any toes, do anything wrong, or offend anyone. It seemed like a room full of naked women just trying to go about their business is a prime place for a dumb tourist gaffe. But pretty much everyone in Morocco has been very kind, especially the women, and I was determined to do it. But it certainly helped to have Melissa there, also on her first hammam trip, to share the experience.
There's no sign on the door, and both of our guidebooks gave only rough directions, so we wandered the streets, towels in hand, until some guys pointed us to the right door. Joining a handful of other women in the hallway, we waited for the men to leave (hammams generally have separate times for men and women), before shuffling into a changeroom. There we took off our clothes – everything but our underwear – and were directed to give our clothes to the attendant and sit opposite her booth.
We waited, somewhat nervously tho not very self-consciously, as all around us Moroccan women stripped down and proceeded into the rooms of the Hammam Sidi Azouz. Eventually an older woman motioned for us to follow her, and taking our bathing supplies, we did. The bathing rooms are warm, tile-lined, and seem ancient; a great dome above us pierced with holes, and a few bare bulbs hung down to assist the sunlight. The occasional shaft of light would shine clear across the dome, through the steam.
She gestured for us to sit on the floor, and proceeded to bring buckets of hot water to set around us. Then she washed my hair, using a scrubber to really get in there and the shampoo I'd brought (there's often some henna for sale at the hammams, if you forget). Giving me a quick rinse, she moved on to Melissa. Then we were joined by another lady, who soaped us each up and scrubbed down our arms, legs, torsos, and faces with our scrubbing mitts and sabon bildi (a slimy argan or olive oil -based soap, purchased earlier in the souks). Dead skin sloughed off as she scrubbed us each down in turn, rinsing us off with a bucket of wonderful hot water.
Then the massage; I laid down on the floor, face first, as she use the sabon baldi to work out the kinks in my back and then my front. On the one hand, it's a bit weird to be half-naked in a room full of half-naked women while yet another half-naked woman massages you; a very non-North American experience. On the other, it was sort-of like being a little kid again, and having something else wash you; you feel very much taken care of, and she was very good. Another big rinse down in another room and we were done, both of us glowing and feeling extremely relaxed and lovely.
Given how filthy you can feel when travelling, and how iffy the showers in a lot of places are, it is the most amazing feeling to be so clean. I don't think even the best hot shower at home can compare; certainly I've never had a massage that was so expert and so matter-of-fact. For 100 dirhams (about $12 CAD), it's worthwhile enough that I'm sure I'll go many more times before I leave Morocco; it's a wonderful experience at any price. To anyone who's feeling a bit nervous about it, I have to say that it's worth the plunge.
if you'd like to read a bit about my time in Morocco and dream of your own trip to this beautiful country, check out my posts from 'way back then – Backpacking in the Maghreb, Solo in Morocco, and try my recipe for Preserved Lemons!