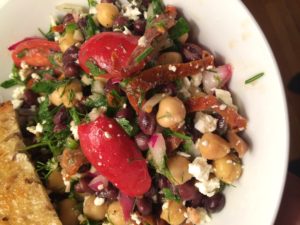 I'm always up for a nice bean salad – they remind me of Summer picnics, and this Balela Salad – loosely based on the Middle Eastern dish – would be a great addition to any picnic or potluck. Vegan, gluten-free, and delicious, this salad is perfect if you're hoping to feed a crowd of people with diverse dietary restrictions. It's also great for lunches, as the fibre will keep you feeling full until the day is over.
It's also a bit addictive, especially after it's had a day to marinate in the fridge. You can serve it with pita or some fresh bread, but it's perfectly fine on its own. It's the sort of recipe you can fiddle with to adjust – if you've got kidney beans instead of black beans, give them a try!
Balela Salad
Serves 4
Total time: 20 minutes of prep, 24 hours to marinate (can be served immediately, but is better after a day in the fridge)
INGREDIENTS:
1 can chickpeas, rinsed and drained
1 can black beans, rinsed and drained
1/2 cup chopped red onion
1 jalapeno, finely chopped
1/2 cup sun dried tomatoes
1/2 cucumber, diced (optional)
1 pint grape tomatoes, cut in half
1/3 cup fresh dill, chopped
1/3 cup fresh basil, chopped (or mint)
1/3 cup fresh flat-leaf Italian parsley, chopped
1/4 cup lemon juice
1/3 cup extra-virgin olive oil
2 cloves garlic, minced
3-5 tablespoons apple cider vinegar
Salt and black pepper to taste
pinch red pepper flakes (optional)
1 teaspoon sumac (optional)
Feta cheese (optional)
In a medium bowl, mix together the chickpeas, black beans, onion, jalapeno pepper, sun dried tomatoes, tomatoes, cucumber, and herbs.
Whisk together the lemon juice, olive oil, garlic, vinegar, and salt and pepper (sumac optional).
Drizzle the dressing over the salad mixture; lightly stir.
Refrigerate salad several hours or overnight to meld flavors.
If desired, add feta cheese as a topping.