Turmeric Roasted Vegetables with Tahini Dressing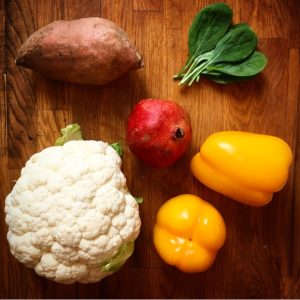 I've been experimenting with a few different flavourful salads over the past few months, and this one is a combination of two different recipes. Turmeric Roasted Vegetables are a nice filling lunch or dinner with a bright colour and an intense flavour. I find it really tasty and filling, especially for lunches. In these cold winter months, it's nice to eat meals that are packed full of vitamin C and feel fresh and healthy. And Turmeric is so great – it not only adds visual interest and flavour, but is supposedly an anti-inflammatory. While this is a great meal for anyone, it's also vegan and Whole30 compliant.
When taking it for lunch, I leave the dressing, greens, pomegranate arils, and roasted vegetables separate and assemble it just as I'm about to eat.
For more delicious recipes, click this link!
Turmeric Roasted Vegetables with Tahini Dressing
Ingredients
Salad
1 cauliflower, cut into florets
1 large sweet potato, peeled and cut into 3/4 inch cubes
2 yellow bell peppers, cut into bit-sized pieces
3 tablespoons olive oil
1 teaspoon ground turmeric
salt
Greens of your choice – I like spinach
Pomegranate seeds
Dressing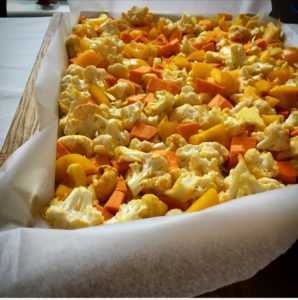 1 lemon
1 clove garlic
1/4 cup tahini
1/2 teaspoon salt
1/4 teaspoon cumin
Directions
Preheat oven to 450 F.
Prepare vegetables. Toss with turmeric, salt, and olive oil.
Line baking sheet with parchment paper.
Arrange vegetables on parchment in a single layer.
Roast for 10 minutes, then use a spoon to toss them. Roast for another 10 minutes, or until fork tender.
While vegetables are roasting, juice the lemon and add to a small jar.
Mince the garlic and add.
Add tahini, salt, and cumin to the garlic-lemon mixture.
Place lid tightly on jar and shake to mix.
Allow vegetables to cool 5 minutes.
As you're about to serve, arrange greens on plate, place vegetables on top.
Drizzle tahini dressing over the vegetables, then sprinkle pomegranate arils over the dish.