Usually I don't love marinating chicken. It takes extra time and planning (at least an hour), it feels wasteful (the leftover marinade goes down the drain, and people often recommend marinating chicken in a ziplock bag, which most will then throw away), and a lot of the time the flavours aren't exciting enough to justify the extra prep and waste. But the marinated chicken for these Chicken Burrito Bowls turned out perfectly – flavourful, spicy, and delicious – and the amount of marinade leftover didn't feel excessive. So I totally recommend this one, and if you can leave it overnight, it's even better. It would probably work really well for tofu, but I'm not very experienced with tofu, so I'm not including instructions.
This Chicken Burrito Bowls recipe has a lot of ingredients and a lot of steps, but I found that it came together pretty quickly, and none of the steps are terribly complicated. If you're reasonably organized, you can probably get the whole thing on the table in about thirty minutes, not counting the marinating time for the chicken. You could also prepare the Chipotle Mayo in advance, and keep it refrigerated for a few days until you need it.
If you're using canned corn and black beans, like me, you'll have some left over; cook some kind of grain, like barley, farrow, quinoa, etc., make a vinaigrette, and toss the beans, corn, cooked grain, and vinaigrette with some fresh veggies like tomatoes for a decent side salad. This recipe already calls for corn, and would be great with black beans.
Chicken Burrito Bowl
2-4 Servings
Marinating Time 1-24 hours
Prep & Cooking time 30-40 minutes
Ingredients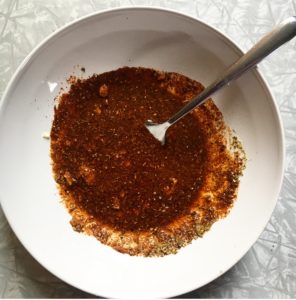 Marinated Chicken
(prepare in advance, min 1 hour)
2 chicken breasts
2 cloves garlic, minced
1 tablespoon lime juice
1 tablespoon olive oil1 tablespoon chili powder
1 teaspoon cumin
1 teaspoon paprika
1 teaspoon salt
1/2 teaspoon dried oregano
1/4 teaspoon black pepper
Olive oil for frying (1-2 tablespoons)
Lime Rice
1/2 cup long grain white rice
3/4 cup water
2 tablespoons lime juice
1 tablespoon butter
1/4 teaspoon salt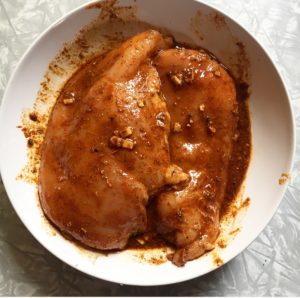 Guacamole
1 ripe avocado
1 small clove garlic
1-2 tablespoons lime juice
cilantro to taste
cumin to taste
salt and pepper to taste
Chipotle Mayo
1/2 cup mayonnaise
1 tablespoon lime juice (or more to taste)
2 chipotle chilies in adobo
1 small clove garlic, minced
1/2 teaspoon smoked paprika
1/2 teaspoon chili powder
Water (if desired for consistency)
For the bowl
Spinach or other greens
Corn – canned or fresh
Red onion – diced
Fresh tomatoes, chopped
cilantro to garnish
Black beans – if canned, rinse before using
Directions
Marinate the chicken: Starting at least an hour before cooking (I give it 24 hours if I can), combine marinade ingredients in a bowl.
Add chicken breasts and flip to coat in marinade
Cover tightly, and leave in fridge for at least an hour, up to 24 hours.
When you are ready to cook, begin the rice – first, wash your rice.

Here's a video showing you how to wash rice

, and

here's a video telling you why you need to wash your rice in advance of cooking it

.
Combine 1/2 cup washed white rice, 3/4 cups water, and 1/4 teaspoon salt in a small saucepan with a close-fitting lid, and bring to a boil.
Stir once, cover with lid, and reduce heat to low.
Simmer for 18 minutes; do not lift lid or stir!
Remove pot from element, and let stand, covered, for an additional five minute. Do not lift the lid until the five minutes are up!
After 5 minutes, fluff rice with a fork, add butter and lime juice, and stir to combine. Set aside.
If you've read this recipe in advance, you'll notice that you can probably manage the next few steps at the same time as steps 5 through 9. If not, no worries, do them consecutively instead of concurrently :)
Pan-fry the marinated chicken: heat approximately 2 tablespoons of oil in a pan over high heat.
When the oil is hot, but before it starts to smoke, carefully add the two marinated chicken breasts (you don't want to splash yourself with hot oil).
Cook chicken undisturbed for approximately ten minutes on each side.
When chicken is cooked, set aside to rest.
Combine guacamole ingredients in a small bowl.
Combine Chipotle Mayo ingredients in a small jar.
Slice chicken breasts into bite-sized portions.
In serving bowls, layer ingredients: spinach or other greens on the bottom, followed by Lime Rice, followed by small piles of chopped tomato, black beans, corn, guacamole, and cilantro.
Drizzle Chipotle Mayo over the ingredients, then top with sliced chicken breast. Your Chicken Burrito Bowls are ready to serve!