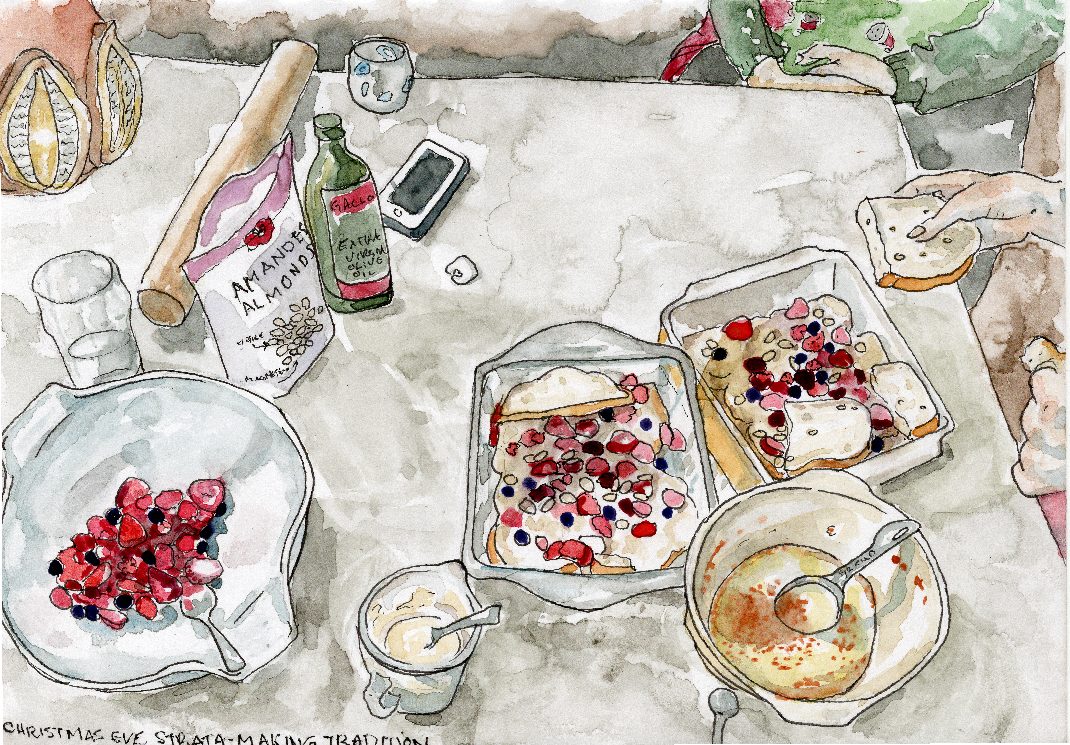 Christmas Morning Berry Strata
Another of our Christmas traditions is this Christmas Morning Berry Strata, which we make in part in homage to my sisters' favourite Christmas movie, The Family Stone.
Spending time in the kitchen with my sisters, with my mom coming through occasionally and grumbling about why we bother making all of this food, is one of my favourite things about Christmas at home; all of the different things we make give a rhythm to the days that feels good. The watercolour above was painted by my sister Cassandra as a part of her 2022 watercolour journal; once she has prints for sale, I'll link to them here.
It's easy to prepare the night before and pop into the oven after the croissants come out. Paired with orange juice, fruit, and cheese, we munch away all morning and into the afternoon.
It's easy to adjust – if there's something you don't like, or you don't have sour dough, or want to double the berries, go to town and make changes.
We serve it with real maple syrup as a topping.
This recipe is part of my Shaw Family Christmas Recipes series; you can find the rest of our annual cooking and baking traditions there.
Christmas Morning Berry Strata
Ingredients
6-9 eggs
2 cups milk
2 tbsp maple syrup
1 cup yoghurt
2 tbsp fig jam
16 slices sourdough bread
1/2 tsp cinnamon
2 cups berries
1 tsp lemon juice
4 tbsp slivered almonds, toasted
Instructions
Lightly coat a lasagna-style dish with oil and set aside.
Combine eggs, milk, pepper, and cinnamon.
In a separate bowl, mix yoghurt and fig jam.
In another separate bowl, combine berries with lemon juice and maple syrup.
Arrange a layer of bread on the bottom of the pan, being sure to cover all empty spaces with bread.
Spoon dollops of the yoghurt mixture over the bread and spread it out.
Spoon half of the berry mixture over the yoghurt mixture.
Sprinkle half of the slivered almonds over the berries.
Repeat the layers a second time, ending with the slivered almonds.
Carefully pour the egg mixture over the layers; allow some time for the bread to soak up the egg mixture, and be sure to use up all of the egg mixture.
Cover with tinfoil and refrigerate overnight.
The next morning: preheat oven to 350F
Remove foil from strata.
Place in oven and bake, uncovered, for 45 minutes. Strata should be golden brown when finished.
Remove from oven and allow it to sit several minutes before cutting.