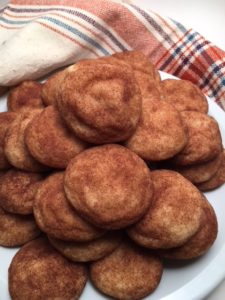 2017 Update: I associate Snickerdoodles with Christmas, not because my family necessarily loves them but because I do, and anything sugary and cinnamony is bound to seem Christmassy to me. I've rarely seen this recipe posted anywhere, which surprises me because these cookies are delicious.
I got the recipe when I worked at Lang Pioneer Village as a costumed interpreter, baking on the old wood-fired cast iron stoves in the Keene Hotel or the Milburn House, learning to gauge temperature based on how quickly your arm-hair felt singed when you stuck your arm in the oven. Unfortunately, an electric or gas oven can't replicate the particularly delicious flavour that a cast-iron, wood-burning oven imparts, but they're still pretty good.
I'm certain that this is not a very authentic pioneer recipe (that's rather a lot of fine sugar and butter to be wasting in backwoods Upper Canada), but I gather that it was popular from at least the early 20th century until maybe the 70s or so, when there was a revival of people baking from scratch.
Easy, easy delicious cookies. You can whip up a whole batch and have them cooling on the kitchen counter within an hour or so.
This recipe is part of my Shaw Family Christmas Recipes series; you can find the rest of our annual cooking and baking traditions there.
Snickerdoodles
Ingredients
2 tablespoons granulated white sugar
1 tablespoon ground cinnamon
2 3/4 cups all-purpose flour
1 teaspoon baking soda
1/2 teaspoon salt
2 teaspoons cream of tartar
1 cup butter
1 1/2 cups granulated white sugar
2 large eggs
1 teaspoon vanilla extract
Instructions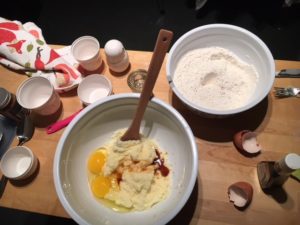 1. Pre-heat oven to 400 F
2. Combine 2 tablespoons sugar and cinnamon in a small bowl; set aside.
3. Combine flour, baking soda, salt, and cream of tartar in a medium bowl and sift together; set aside.
4. Cream butter, gradually add 1 1/2 cups sugar; mix well.
5. Add eggs and vanilla; mix well.
6. Stir in flour mixture; mix well.
7. Shape dough into 1″ balls; roll in cinnamon-sugar mixture. Place 2″ apart on baking trays.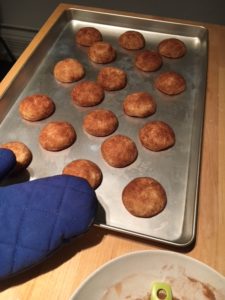 8. Bake for 6 minutes or so until lightly browned (the difference between a burnt Snickerdoodle and an uncooked Snickerdoodle
seems to be a matter of seconds, so keep an eye on them).