Finishing the Camino – Santiago de Compostela
Walked 11.6 km around the city at a stroll, with no pack except when we went to catch our bus back to Porto
A lovely, leisurely morning in O Xarden de Julia, and then at Cafeteria Blu, a really hearty breakfast of the kind we weren't able to find on the road was incredible (though a slight misreading of the menu meant we ended up with coffee with whipped cream instead of coffee with cream, which was not what we'd wanted at all). Our plans for the day were to visit the Cathedral and hug St. James, the check out the city a little bit and catch a 5pm bus back to Porto.
It's traditional for pilgrims to visit the shrine of St James inside the cathedral to give thanks to him (as patron saint of pilgrims, and particularly pilgrims on the Camino de Santiago, he's been your protector on this trip)for a safe and successful journey. Our first stop was the crypt containing the bones of St. James, which is underneath the altar of the church, and is accessed by a very narrow staircase in and out. We didn't spend a lot of time here, as the space is small and you want to leave room for the truly devout to pray.
Then we joined the relatively short lineup to hug the statue of St. James, which is mounted above the altar, and is accessed from the back. In line, you climb a narrow staircase, worn with the feet of millions of pilgrims, up to a small room behind the statue, and once you get to him, you do you – some people put a hand on him and prayed, but I (like most people) gave him a big hug from behind. It's a sweet ritual to end the trip, and really marks the end of your pilgrimage.
At this point, we had a few hours to wander around Santiago de Compostela and see a bit of the city, including going to the pilgrim's Mass at 1pm. Though in spots the city is absolutely very touristy, having been a tourist destination for about a thousand years, there's still space for local culture and artisans, as well as just the real lives of peope who live there.
A priest saw me taking a picture of the carving above, and stopped to talk, and we had a lovely conversation about art and history. As had happened the previous two days, our enthusiasm for the art and history was clear, and I find that being delighted by someone's home turf makes them proud and happy, and can lead to some really interesting conversations and experiences. The cardinal sin of travel, and maybe of life, is to be cool. Get excited. Be interested. You get so much more out of it that way.
Because the cathedral was under renovation, the Pilgrim's Mass was held in Iglesia de San Francisco. The mass was lovely, and so was the church – and to my delight they had another very good lake of fire. I just can't get enough of them! They're so good!
We grabbed some lunch at a vegetarian place, spent a little time playing in a playground that had a witchcraft/pirates them, and then hustled back to the hotel to grab our bags and head to the bus station.
Did we have enough time in Santiago? No, not really. I didn't find it as off-puttingly touristy as some people do, though it is very touristy indeed. But it had a welcoming atmosphere. I don't know if we would have found that there was a lot more to explore if we'd stayed another night, and beautiful Porto was calling, but I hope to be there again someday.
If you find yourself taking the bus out of Santiago de Compostela, you should know that the buses themselves are one level lower than the ground floor area where you buy your tickets. This is knowledge that would've saved the two of us some stress, s we nearly missed our very packed bus back to Porto.
It took us 12 days to walk to Santiago de Compostela from Porto; it took 3 hours to reverse the trip by bus.
I like posting pictures of menus, as it not only gives you an idea of what kind of food you can find in a city/country you're not familiar with, but also is ripe for gorgeous and weird translations. "Pork-like guts!" "All the good textures!" I love it. No idea what 'pork-like guts' would be, though.
The last two pictures were from our favourite place, A Sandeira do Porto, a tiny restaurant that was a steep climb from our home base back at Blue Sock hostel. They bill themselves as "the best sandwiches in Porto," and it's true.
We ate here every day we were in Porto; it was a lucky discovery (thank you, Google Maps!). The food was so good. I'll write a post about our days in Porto, but I couldn't help but talk about our favourite restaurant here, as well.
Since we were back in Porto, the home of Port, we had a glass of Port at one of the cafes by the river.
As we head back to the hostel for the night, the full moon hung over the city. I was sad to have finished the Camino, but glad that we had the time to come back to Porto for a few days at the end of our trip to relax and have fun.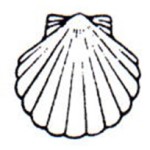 Follow our Caminho Portugues adventure!
Landing Day in Porto
Day 1 – Porto to Vila Cha
Day 2 – Vila Cha to Rates
Day 3 – Rates to Barcelos
Day 4 – Barcelos to Ponte de Lima
Day 5 – Ponte de Lima to Rubiaes
Day 6 – Rubiaes to Tui
Day 7 – Tui to Porriño
Day 8 – Porrino to Redondela
Day 9 – Redondela to Pontevedra
Day 10 – Pontevedra to Caldas des Reies
Day 11 – Caldas des Reies to Padrón
Day 12 – Padron to Santiago de Compostela (you are here)
Finishing the Camino in Santiago
At the same time as writing this travelogue, I'm writing an article with practical advice for people planning on taking the walk themselves, when we can travel again, and when I post it, I'll link it here.