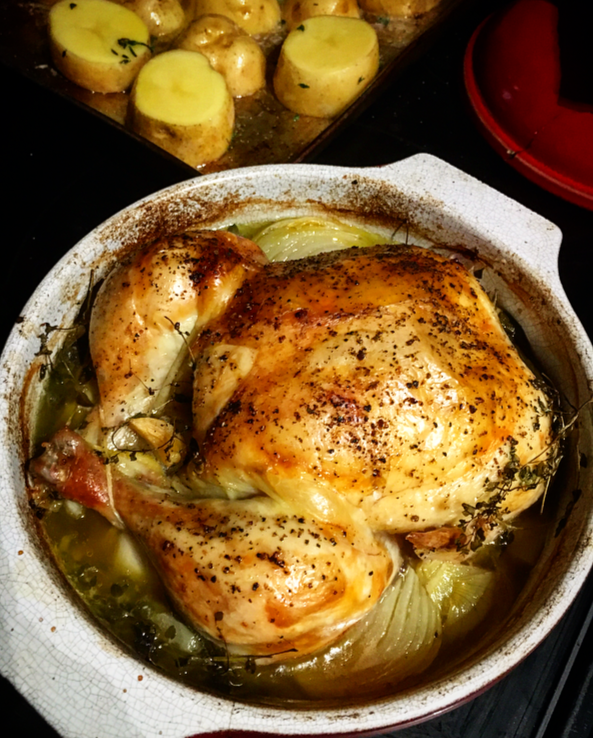 Poulet en cocotte (Roast Chicken in a Pot)
Like many people, I spent this Thanksgiving apart from my family due to the pandemic. I'd had a rough week for a whole bunch of reasons, and was feeling really sad about missing out; cooking a big feast with and for people I love is one of my favourite things. But we decided we'd eat together over video chat, so I went ahead and made up a whole dinner like I'd do at home, though on a smaller scale – pumpkin pie, stuffing, melting potatoes, spinach salad with macintosh apples and sliced almonds, and instead of a turkey, a lovely roast chicken.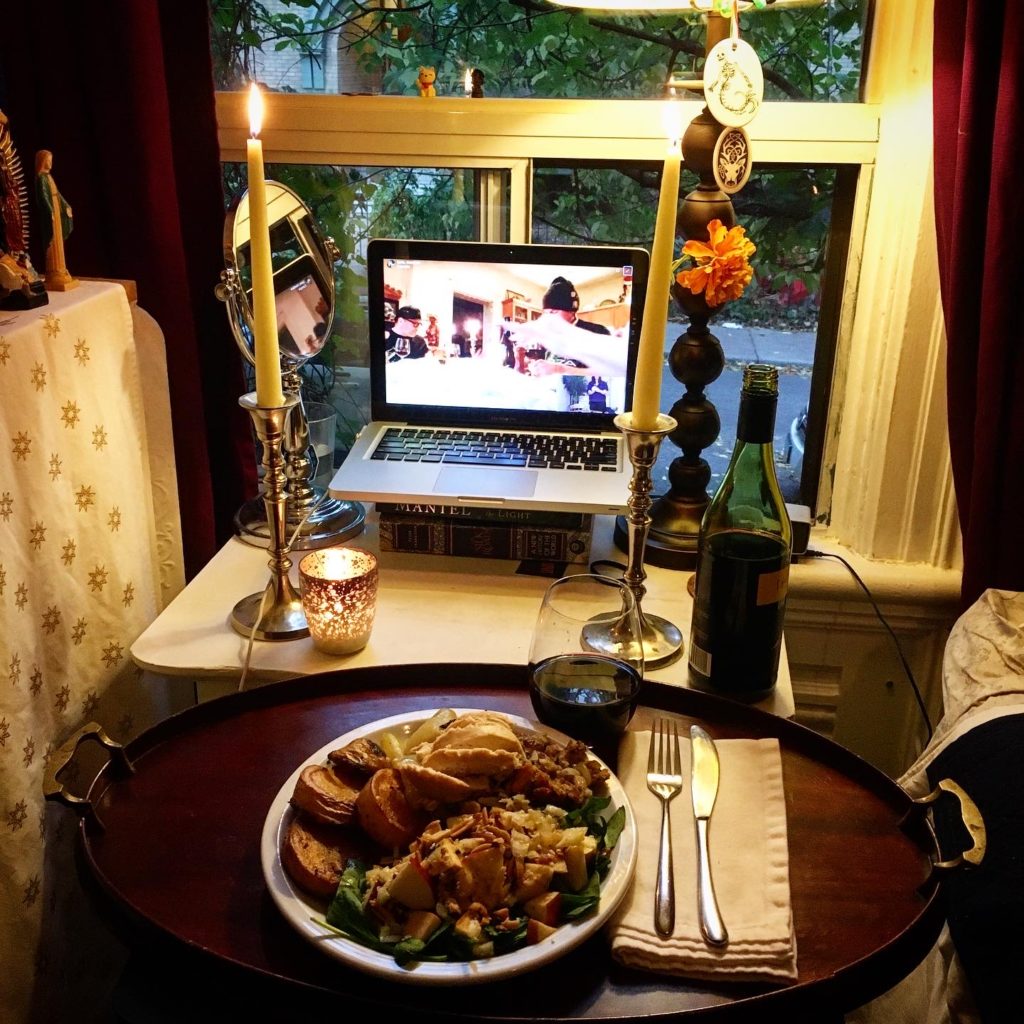 Roasting a chicken is pretty straightforward, and I've done it a million times, but I saw a recipe for poulet en cocotte (casserole dish chicken) that caught my eye, and so I decided to try that technique instead of my usual version. It turned out beautifully, with moist, tender meat that was redolent of herbs, garlic, and onions, and crisp golden skin.
You can do this in an oven-safe stock pot, like the Gordon Ramsay one that I have, or if you're lucky in your La Creuset Cocotte Ronde (if you're shopping for a gift for me, I'll take one in red, thank you), or something similar – really any pot that's safe to go in the oven will do. I used my well-worn, ancient, beloved, broken-and-reassembled Emile Henry Grand Cru. Depending on what you choose to use, your outcome will be a little different, but it will totally turn out.
I wasn't really paying attention when I bought the white wine, Riunite Moscato Emilia (it was the cheapest), and accidentally got one that was quite sweet and fizzy, like alcoholic soda pop, but I used it anyway and it turned out fine – neither the chicken nor the broth it was stewing in tasted sweet, in the end, and I'd almost recommend using a similar wine since it turned out so well. The LCBO website describes it as "an ideal apéritif," and having drunk most of the remainder of the bottle myself while cooking dinner, I have to say I agree.
Poulet en cocotte
Prep: 15 minutes
Cooking time: Approximately 2 hours
Serves: 4-5ish
Ingredients
1 whole chicken
4 onions, peeled and quartered
4-8 cloves garlic, peeled and whole
2 tbsp olive oil
5 peppercorns
1 bay leaf
Fresh thyme (on stem)
Fresh sage (whole leaves)
1-2 cups white wine (I free-poured, so who knows how much I used, but you're really just giving the chicken a luxurious white wine bath, so there's no need to measure it exactly. You can use white grape juice if you don't drink wine!)
1 cup water
salt and pepper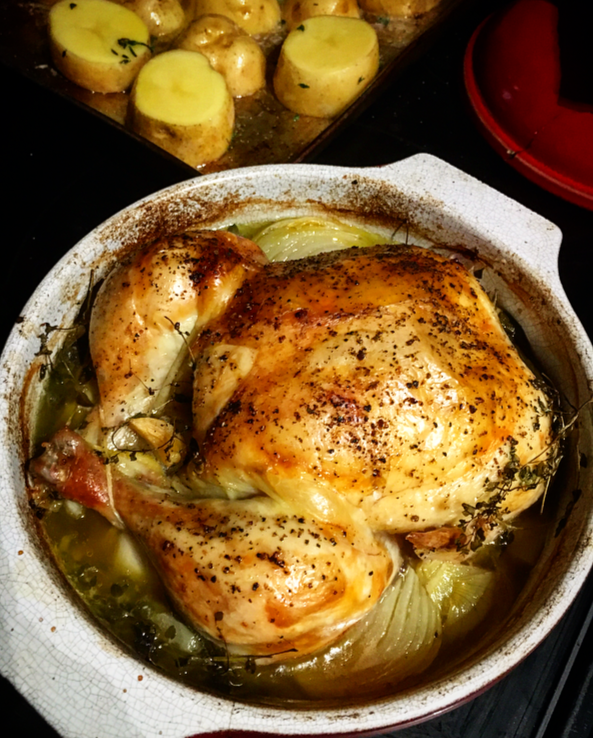 Directions
Heat oven to 350 F
Remove chicken from package and rinse under cool water
Season chicken with salt and pepper on all sides
Place chicken in pot with onions, garlic, herbs, wine, water
Place some of the onions and garlic inside the chicken cavity (if you decide to use stuffing instead, that will change the cooking time; sometimes I put a lemon inside the chicken instead, after washing the lemon and pricking the skin with a fork)
Pour olive oil over the top of the chicken, and rub to coat.
Re-season the top of the chicken with salt and pepper
Cover the chicken and roast in the oven for 90 minutes
After 90 minutes of roasting, take the lid off of the pot and continue roasting to let the skin crisp.
Remove chicken from the oven, let it rest for 20 minutes (I re-covered it to keep the heat in, and it was still piping hot 45 minutes later), and serve
Keep the fat and juices that collect in the pot, and the skin and the carcass, to use for making stock in the next day or two.
You can find more delicious recipes on my Family Recipes page.