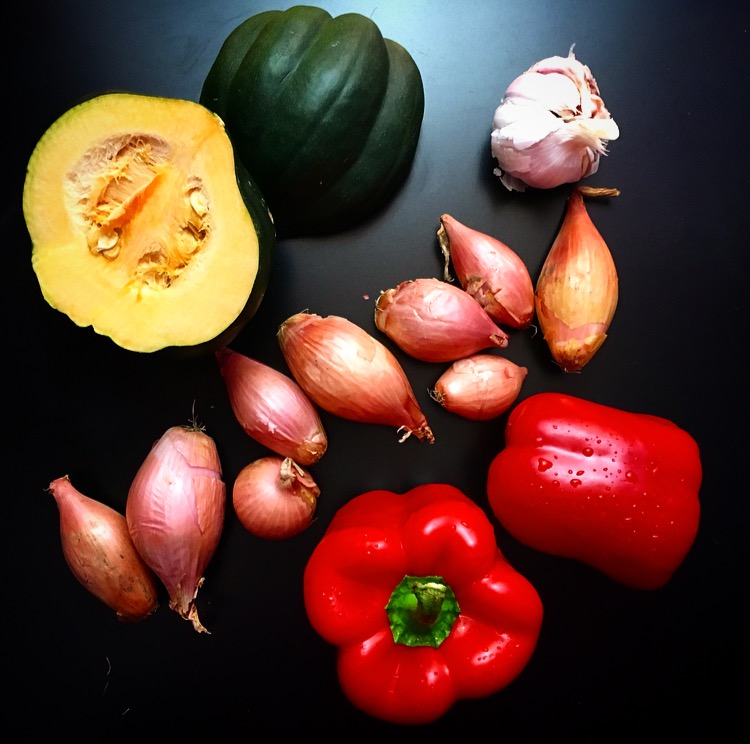 Roasted Squash with Shallots, Garlic, and Red Pepper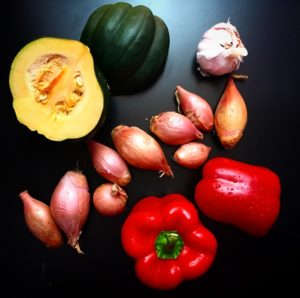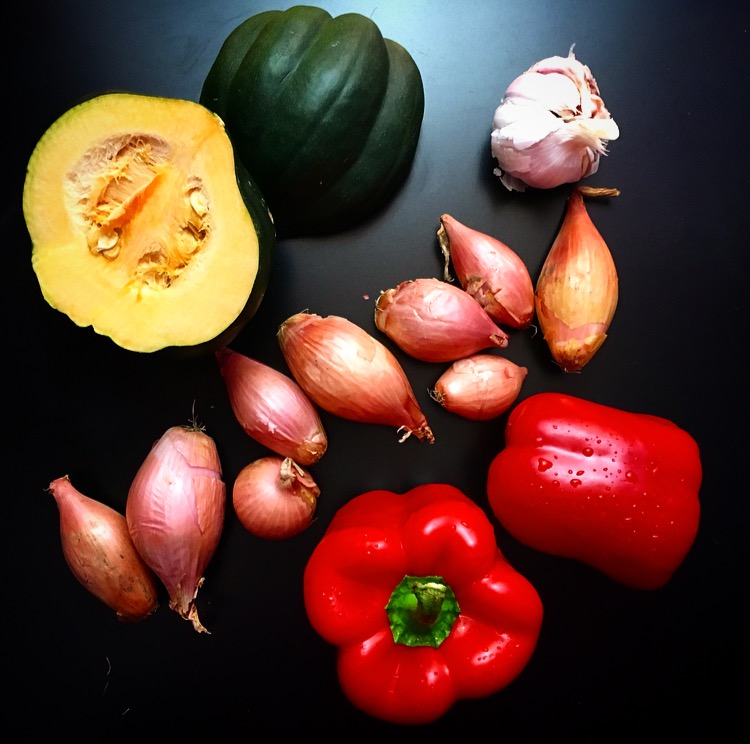 This tasty side dish was an on-the-fly invention during an impromptu Thanksgiving dinner (we ate at 9pm, unexpected friends dropped by, it was lovely). Roasted squash isn't exactly rocket science, but it's nice to get away from the usual squash with brown sugar and butter, and probably a smidge healthier. When this is done, the delicious caramelized sauce is almost like a vegan gravy – you may find yourself licking the pan.
This recipe is Whole30 compliant, and if that's not your jam you can add some butter to the squash when you've got it on your plate, but you really don't need it at all – the sauce created by the roasted shallots & etc. has all the flavour you could desire.
You can find more delicious recipes here!
Roasted Squash with Shallots, Garlic, and Red Pepper
Ingredients
1 acorn squash
1 red pepper
1 package of shallots (about 10 shallots)
2 bulbs of garlic
2-3 tablespoons olive oil
salt and pepper to taste
Optional: you can cube a couple of potatoes and throw them in as well
Special Tools
Parchment paper (not absolutely necessary, but it does help with cleaning the pan later)
Baking dish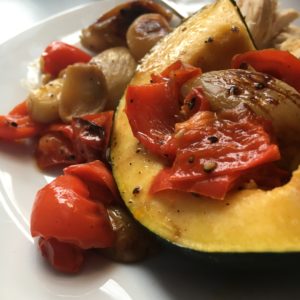 Directions
Heat oven to 400 degrees Fahrenheit.
Quarter the squash, scooping out seeds.
Peel shallots and garlic cloves, leaving whole.
Cut red pepper into strips or chunks.
Place shallots, garlic cloves, and red pepper into a baking dish lined with parchment paper and drizzle with olive oil, reserving some for the squash.
Toss to coat with oil, and season with salt and pepper.
Use remaining olive oil to coat the flesh of the squash, and place, flesh-side-down, on top of the vegetables (this protects the garlic, in particular, from burning).
Place dish in oven and roast for 35 minutes, or until squash is tender.
Remove squash and roast remaining vegetables for 15-20 minutes.
Serve quarters of squash with shallot sauce overtop.
Serves 4.