More often than anything else, I find myself craving a nice rich garlic basil tomato sauce. For ages, I've tried to find a recipe that hits all of those perfect notes, but nothing ever seemed to work – the flavours were never quite what I was hoping for. Until I had a moment of realization – restaurants put butter in everything; why would tomato sauce be an exception? It turned out that butter was exactly what I was missing (this recipe is great without it, but so, so good with it!)
This is a quick, easy recipe that I use this in lots of different ways – over pasta, over pan-fried chicken, with meatballs, with spiralized vegetables – and it always hits the spot. It also keeps well in the fridge, so it makes a great lunch out of the leftovers. If you leave out the butter, it's also Whole30 compliant!
For more delicious recipes, click this link!
Buttery Garlic Basil Tomato Sauce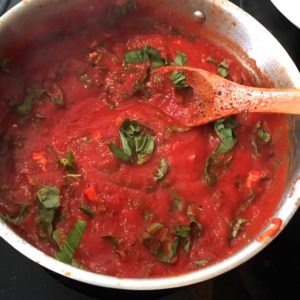 Ingredients
1 bottle strained tomatoes

salt and pepper

1 tablespoon olive oil

3 cloves garlic, minced

one handful fresh basil, loosely packed, cut into ribbons

1/4 cup butter (don't even think about using margarine or some other gross thing)
Chili flakes to taste (optional)
Directions
Heat olive oil in a heavy skillet at a medium heat.
Add strained tomatoes.
Return to a medium heat and simmer tomatoes.
Add garlic, butter, salt, pepper, and chili flakes if desired; cook for an additional 5-10 minutes.
Just before serving, stir in basil.