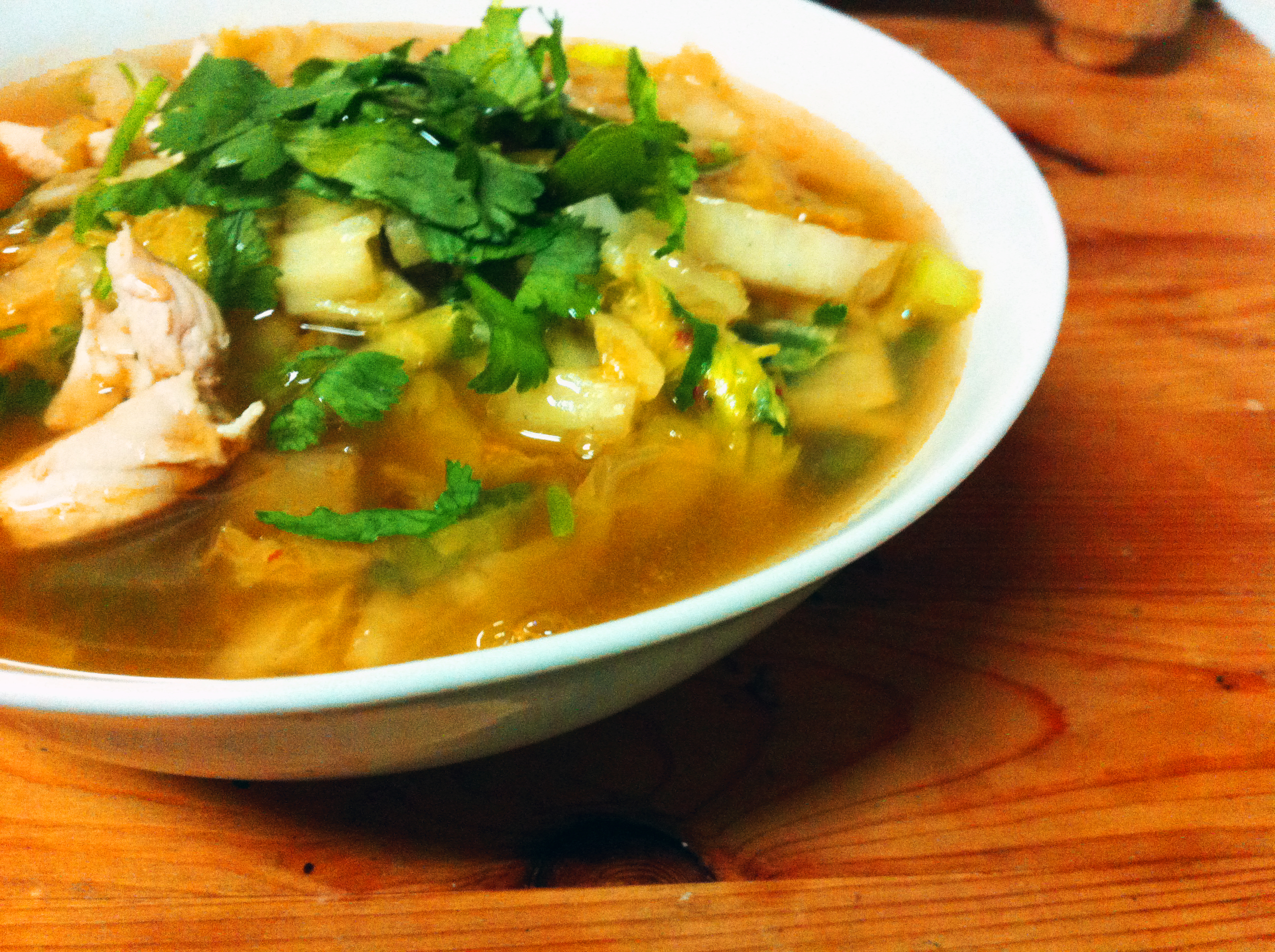 This is a recipe from my good friend and longtime co-conspirator Ashley, who is a great cook and sometimes posts recipes here. Some years ago when I was feeling pretty under-the-weather, she shared with me this recipe for a soup that she created. This is totally comfort food, for me, when the cold weather hits; it's essentially a Chicken Noodle Soup, if Chicken Noodle Soup wasn't salty, bland, and disgusting and was instead somewhat heavenly and delicious.
Anyway, now you know where I stand on Chicken Noodle Soup. This recipe will do all of the things you want from said grotty soup, but will do them with vim, vigour, and panache.
I've put it in here as Ash sent it to me, so most of the words (and 100% of the credit) are hers.
This is what she said about it:
"This is based on a recipe I found online several winters ago. It's also pretty good with tofu and veggie stock, [Tried it, liked it. Candace] and it would probably be awesome with beef/beef broth and maybe rice noodles. I find the cabbage-garlic-buckwheat interaction in the chicken version extremely nourishing, and a relief for when it's time to go back to eating food with flavours.
I call it Ugly Soup because it is damned ugly. Best served with extra cilantro to garnish (disguise)."
Ugly Soup
1 head of napa cabbage, washed and sliced thin
1 lb chicken breast or thigh, sliced thin
6-8 cups chicken stock or broth
2-3T garlic, minced (a lot of cloves – like a whole head, maybe)
2T tahini
1.5 T soy sauce (best with a Japanese-style one like Kikkoman – you might want less, otherwise)
2t chili-garlic paste (or more garlic, and 1t dried crushed chilies)
1t sesame oil
6 green onions, trimmed and sliced
1/2 cup cilantro, chopped
juice of one lime
soba noodles – about 1/2 a package of dried or fresh noodles – I usually use the dried ones that you can get in the grocery store [Candace's note: I usually leave these out, as I freeze portions of the soup for later meals and don't relish the idea of re-heated soba noodles]
Directions
Bring the stock to a boil
Add the chicken. While it cooks…
Mix the garlic, tahini, soy sauce, chili-garlic paste, and sesame oil together. Stir these into the soup and…
Quickly! Add the cabbage and green onions!
Really, it's probably done now. Check a piece of chicken to be sure. Stir in the noodles, cook until they're soft, remove from heat, and stir in the cilantro and lime juice.