Eight years ago, I travelled alone to Morocco and spent a month with no reservations or plans, moving from place to place as I liked and enjoying Moroccan culture, food, and affordable, comfortable railways. The first time I tried Preserved Lemons was in Meknes, in a restaurant overlooking the Place Hedim, opposite the Bab Mansour. I ordered Chicken Tagine with Preserved Lemons, and I swear it came with at least one full preserved lemon and the most succulent chicken I've ever eaten (see picture below!). As I watched small crowds gather around musicians performing in the square and sipped mint tea, I remember thinking that it was one of the best meals I'd ever eaten.
Since coming home, I've often craved the food of Morocco – though there are sort-of Moroccan restaurants here, they don't really hit the spot. And no one is as generous with their Preserved Lemons as they were in that restaurant on the Place Hedim, but that unique flavour takes me right back to that time, even in small doses.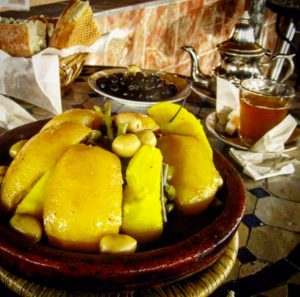 Making them yourself is incredibly easy – two ingredients and time to pickle are all that you need – though you can also pick them up in lots of grocery stores and specialty shops around North American these days.
If you're not sure what to do with Preserved Lemons, you can find some terrific recipes online – here's a great start! – and some good suggestions on how to experiment with them – check out this page! Preserved Lemons are also a great way to add flavour to a dish without adding a lot of calories, and they are Whole30 compliant.
And if you'd like to read a bit about my time in Morocco and dream of your own trip to this beautiful country, check out my posts from 'way back then – Backpacking in the Maghreb, Solo in Morocco, and My First Hammam.
Preserved Lemons
Ingredients
5-6 lemons (possibly more if additional lemon juice is needed)
salt (don't go too crazy with the salt – I did once and they were almost too salty to use)
Tools
Clean mason jar
Sharp Knife
Cutting Board
Directions
Thoroughly wash lemons, scrubbing skin to remove any dirt.
Using a sharp knife, quarter the lemons from their tip to within a 1/4 inch of their bottom
Sprinkle approximately a tablespoon of salt in the bottom of the jar
Sprinkle approximately a teaspoon inside each of the quartered lemons, reshaping the fruit when done
Pack the lemons into the mason jar, sprinkling salt between lemons, and squishing them down to release lemon juice
When all lemons are in the jar, allow them to rest for a few minutes
If the juice in the jar does not cover all of the lemons, used fresh-squeezed lemon juice to fill the jar, covering all of the fruit.
Sprinkle remaining salt, approximately 1 tablespoon.
Allow to pickle for 30 days at room temperature, shaking daily to distribute salt.
To use, remove a lemon from the jar, rinse off salt brine, and use as directed in recipes or however seems best to you!
There's no need to refrigerate while the lemons are pickling, nor after you've opened them – they'll keep up to a year, and you can re-use the juice to pickle more lemons if you find you use them regularly